Watch This IKEA Commercial At Your Own Risk, Moms
by Maria Guido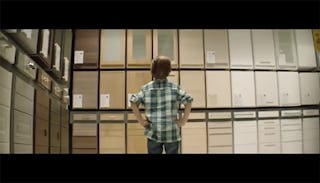 IKEA commercial makes moms weep forever
I took a picture kissing my 5-year-old on the cheek a few weeks ago, and he rolled his eyes. At that moment, I was reminded that he wouldn't be a little boy forever. Soon, he probably won't need me to climb into bed and read him a story so he can fall asleep. He probably won't want me to walk him all the way up to the door at school. He'll probably stop saying things like, Mommy — I love you most.
PASS THE WINE.
IKEA knows this time is coming. And their new commercial reminds us all, no matter how big our children get, they never stop being our babies.
Yes, I know that's cliché. Just watch the video.
Thanks a lot, IKEA.
BRB, sobbing forever.
You know what else will make you cry? Like, in a good way— Scary Mommy's THE MOM CLUB: 10 Stories to Make You Feel Like a Better Parent. Costs less than an IKEA kitchen island.
This article was originally published on