Ikea Donated Doll Beds To Shelter Cats And It's Too Cute For Words
by Christina Marfice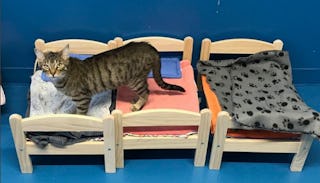 Via Etobicoke Humane Society / Instagram
We never knew how much we needed animals in tiny real beds
Imagine the most adorable thing that could possibly happen. Are you imagining it? Great, now imagine it even more adorable. You might be getting sort of close to the most adorable thing to hit the internet today: Ikea donated a bunch of doll beds to an animal shelter, and they're just the right size for sleepy cats.
The Etobicoke Humane Society had a little problem: It had a room full of adorable, adoptable felines, but not enough beds to allow them all to lounge off the "cold, hard floor," according to a video it made to thank Ikea for stepping in and fixing the problem.
The Swedish furniture store donated 10 of its Duktig doll beds — and $300 cash — to help make the shelter a more comfortable place for kitties to hang out until their forever families come along. Now, the shelter's Instagram is full of photos of cats lounging in their new beds, complete with tiny, cat-sized quilts. Are you squealing yet? Because we're squealing.
The video shows shelter workers putting together the beds, with plenty of "help" from curious cats who check in periodically to see what's going on with all those power tools.
For the internet, cats in doll beds is nothing new — people discovered long ago that Ikea's bed are the perfect size for our feline friends, and have been posting pictures that make us all go, "Aww."
Add this to the list of things you didn't know you needed: doll beds sized to fit every animal.
H/T: Bored Panda
This article was originally published on