Third Child Dies After IKEA Dresser Tips Over On Him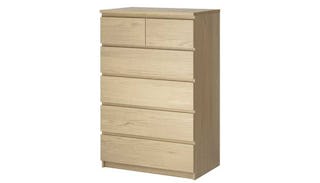 Consumers urged to secure any IKEA dresser or chest to a wall immediately
A third death involving a small child and an IKEA dresser is being investigated by federal safety regulators. Horrible tragedies like this one are all too common for American families. A child dies every two weeks in this country from furniture or appliances tipping over onto them, according to data from the U.S. Consumer Product Safety Commission. Every 24 minutes a child in the U.S. is injured by falling furniture, according to the same data.
Theodore "Ted" McGee was only 22-months-old when he was crushed by an IKEA dresser on Feb. 14 in his Apple Valley, Minnesota home, the family's lawyer, Alan Feldman, said. "They didn't hear the dresser fall. They didn't hear Ted scream," he told Philly.com. The family thought the toddler was sleeping. Ted's parents said they didn't know about the recall and are pursuing a lawsuit against IKEA. The family said the company didn't issue a strong enough warning.
Ted's tragic death is being investigated by IKEA and the CPSC. The investigation comes months after the retail giant announced a repair program for about 27 million chests and dressers because of how easy it is for the furniture to tip over when not properly anchored to a wall. CPSC Spokesman Scott Wolfson said the toddler's death was a "tragic tip-over fatality" but wouldn't comment further. A law stops the agency from releasing details about the situation without the company's consent.
IKEA will likely release those details at some point. The company has publicly spoken out about the dressers after two children died when chests fell on them. In 2014, 2-year-old Curren Collas, from Pennsylvania boy, and 23-month-old Camden Ellis, from Washington, both died in accidents involving an IKEA dresser or chest. Neither pieces of furniture were secured to the wall, according to the CPSC. The company said it knew of three other deaths since 1989 involving IKEA chests and dressers. Last summer, consumers were told to remove the furniture from rooms where children could access it or get free install hardware from IKEA and secure the chests and drawers to a wall. The hardware is available at any location or can be shipped to your home directly. Find out more information about the recall program here.
The Swedish retailer said it has sent 300,000 sets of anchoring hardware out since the announcement last year. "We wish to emphasize that the best way to prevent tip-over of chests of drawers is to attach products to the wall with the included restraints and hardware per the assembly instructions," company spokeswoman Mona Astra Liss said. IKEA's dressers, chests, and larger pieces of furniture come with anchoring hardware in the packaging and instructions, but safety advocates said that isn't enough because people don't realize the threat exists.
The risk isn't just with IKEA furniture, though. A death every two weeks from falling furniture shows there's a bigger problem across the U.S. with parents not understanding how dangerous it is to not properly secure furniture. Hopefully the McGee's terrible loss will raise awareness about this sweeping issue and prevent another tragic death.
This article was originally published on