IKEA Recalls 29 Million Dressers Due To Tip-Over Risk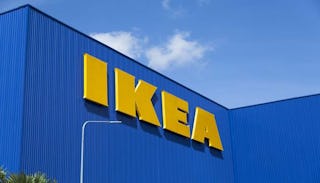 Image via Shutterstock
After the deaths of three children, IKEA issues a voluntary recall of certain styles of dressers
One child dies every two weeks from furniture or appliances falling over on them — that's not an IKEA problem, it's an unsecured furniture and appliances problem.
IKEA is issuing a voluntary recall of millions of "dangerous" dressers that can easily tip over on to kids after the deaths of three children since 2014. Dangerous is in quotes here, because any piece of furniture that isn't properly secured can be dangerous to children. Maybe this sweeping recall will help spread that awareness.
The furniture giant announced yesterday it will no longer be selling MALM series dressers because they are unstable if not properly secured.
"The recalled chests and dressers are unstable if they are not properly anchored to the wall, posing a tip-over and entrapment hazard that can result in death or injuries to children," says the recall announcement on the IKEA website. "The recall affects children's chests and dressers taller than 23.5 inches and adult chests and dressers taller than 29.5 inches that do not meet the performance requirements of the U.S. voluntary industry standard."
Every 24 minutes a child is sent to the emergency room by a falling piece of furniture or a television, according to the Consumer Product Safety Commission. Every two weeks, a child dies. Every two weeks. After a third child died from a falling IKEA dresser, the company issued a giant furniture safety campaign urging parents to anchor furniture to protect their children from accidents. The company sent out over 300,000 free anchor kits to customers.
The Consumer Product Safety Commission has been trying to get the word out about the dangers of unsecured furniture and televisions for years. Seventy percent of injuries and deaths from falling furniture and appliances are attributed to improperly secured TV's. Here's a poster they created for their safety campaign that's filled with sobering info:
NBC printed a statement from Alan Feldman, an attorney who represents the families of all three toddlers: "We applaud the CPSC for taking a tough stand in support of consumer product safety by demanding that IKEA take concrete action to get these defective dressers off the market, or at least to make sure that whenever possible, the dressers are secured to a wall. It should not have taken repeated injuries and deaths over many years before IKEA finally responded to the potential hazard it placed in millions of American homes."
That could literally be said about any furniture manufacturer, and certainly any TV manufacturer since televisions appear to be causing the most injuries. If a child is dying every two weeks from improperly secured furniture, anchor kits should be required to be included with dresser and television purchases. Safety should be a part of the spiel when selling televisions, or a least safety campaign posters like the one above should be prominently placed in stores selling furniture and appliances that pose a danger to kids.
There are so many people who are commenting that this is a parenting fail, not the problem of the businesses that sell furniture or appliances. Can we get past that and realize that something that causes this much death and injury to children is not a "freak" accident or something that happens because of bad parenting. Parents need information.
Kudos to IKEA for getting the information out there, and for a voluntary recall that is terrible PR for them, but will hopefully spread awareness about just how unsafe it is to have unsecured furniture and appliances around kids.
This article was originally published on