Ikea Reissues Dresser Recall After Reports Of Another Child's Death
by Megan Zander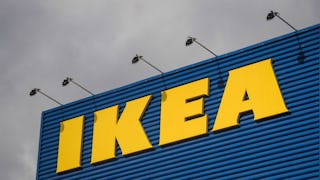 Image via Getty Images/Jonathan Nackstrand
If your MALM dresser is unanchored, it's time to do something about it
IKEA is reissuing its voluntary recall of the MALM dresser series amidst reports that an eight child died in May after being trapped under the dresser during naptime. The company originally ordered a recall of the furniture series in 2016. According to the U.S. Consumer Product Safety Commission, more than 90 children have been injured by the dresser and IKEA has received 186 tip-over incident reports related to the chests and dressers. Seven child deaths had been reported in relation to the dressers at the time of the original recall, this most recent incident makes eight children in total. The reissued recall includes the following furniture pieces:
MALM 3-drawer
MALM 4-drawer
MALM 5-drawer
MALM 6-drawer
If you own a MALM dresser that's not already secured to the wall use this website to see if it's been recalled. If your dresser is part of the recall, here's the CPSC's instructions on what to do. "Consumers should immediately stop using any recalled chest or dresser that is not properly anchored to the wall and place it in an area that children cannot access. Contact IKEA for a choice between two options: refund or a free wall-anchoring kit. IKEA will pick up the recalled dressers free of charge or provide a one-time, free in-home wall-anchoring service for consumers upon request. Consumers can obtain assistance from IKEA through its website at www.IKEA-USA.com or http://www.ikea.com/ms/en_US/ikea-chest-and-dresser-recall/index.html. Consumers with chests and dressers manufactured prior to January 2002 are eligible for a partial store credit."
Eight children losing their life from a single line of furniture is unthinkable, but the truth is it's not just IKEA dressers that are tipping hazards. Any heavy, large appliance or piece of furniture that's not secured has the potential to be dangerous. The U.S. Consumer Product Safety Commission reports that three children are injured every hour from falling furniture. If that's not upsetting enough, one child dies every two weeks due to improperly secured televisions or furniture. Surprisingly, it's not the curious toddlers who are most at risk. While newborns to two-year-olds make up 35% of such fatalities, 39% happen to children between the ages of three and nine. IKEA's reissued recall is a reminder, not only about their dresser, but about the importance of anchoring all heavy and high electronics, appliances, and furniture around kids.
This article was originally published on