This Chubby Baby Legs Competition Will Make Your Ovaries Explode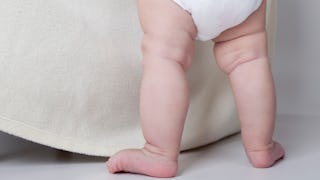 Image via toos/Getty Images
Chubby baby legs competition = best idea ever
Need a little pick-me-up after a long, long week? I would like to draw your attention immediately to a competition that revolves completely around chubby baby legs. Because the world can be a bleak place and sometimes you just need to look at pictures of adorable, dimpled baby legs.
This competition was the brainchild of comedian Iliza Shlesinger, who offered up free tickets to her upcoming show in exchange for the very thickest, stumpiest stems out there.
"LET ME SEE YOUR CHUBBY BABY LEGS!" she wrote on Twitter. "You could win 🎟🎟 to see me live! Post here and tag #eldermillennial or head to Insta! Contest ends this Friday!"
Well, ask and you shall receive. Pictures of extra-squeezable baby legs poured in. Some of the babies were sassy (please see Beach Baby below). Some of them were sweet. And some of them were having a rough day and just wanted a nap. But most importantly, there was lots and lots of adorable chub to go around. Bonus points for extra round cheeks and any double chin action.
https://www.instagram.com/p/BmQgTQxjpm1/?tagged=babyleg
Has your day just gotten marginally more delightful? Hopefully the answer is yes, because it was all for a really good cause. "Everyday in America, millions of Chubby Baby legs go unsqueezed and unnoticed," Shlesinger told Buzzfeed. "This contest is about bringing awareness to them."
There were so many delightfully dimpled legs that Shlesinger ended up giving out multiple first place awards.
"The CHUBBY #BABYLEG CONTEST HAS CONCLUDED! I couldn't squeeze just one so I picked 11 winners!" she wrote. "Please remember that this contest was for a pair of tickets, not a million dollars. This was for fun and is in no way a judgment about anything other than subjective chunky leg squeezability!"
https://www.instagram.com/p/BmSS-LHHFfW/?utm_source=ig_twitter_share&igshid=1o8mvkmxugvzy
Here's to all the chunky baby legs out there. Let's do most kissable cheeks next.