'I'll Push You': Lifelong Best Friends Complete A 500-Mile Trek Through Spain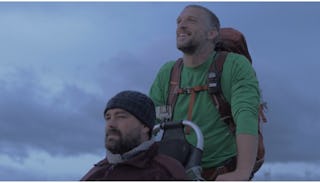 Via Justin Skeesuck and Patrick Gray
"It's what you do in spite of those limitations that defines you."
It all started with a TV show.
"I was watching Rick Steves Europe," Justin Skeesuck told the Today show. "The episode was on this pilgrimage across northern Spain called the Camino de Santiago. I knew instantly my heart was just telling me, 'You need to do this.'"
OK, so it actually started way earlier than that.
Skeesuck and his best friend, Patrick Gray, were born within 36 hours of one another. Throughout their entire lives, they've been inseparable. Even when, at age 16, Skeesuck started experiencing some mysterious muscle weakness, they stayed best friends. Even when Skeesuck was diagnosed with Multifocal Acquired Motor Axonopathy, a degenerative disease similar to ALS, they remained at each other's sides. As Skeesuck started to lose more and more control of his muscles, eventually having to use a wheelchair, his relationship with Gray stayed strong.
"His ability to handle it so well, with grace and dignity, really helped me not be affected by it," Gray said. "But when the disease reached his hands, it was really hard for me to come to grips with."
Skeesuck was already using a wheelchair when he saw that episode of Rick Steves Europe. He knew what he wanted to do. And he knew who would help him do it.
"This relationship is just a gift. We've done everything together so far," Gray said. "Why not have one more adventure? Let's make it a grand one. So there was just no other response in my head than yeah, I'll push you."
Two years later, in a three wheel aluminum wheelchair, Skeesuck and Gray set out on the trail, beginning in France and traversing mountain ranges, rivers and an expansive Spanish desert. They met other hikers from 27 different countries who helped push and pull Skeesuck's wheelchair up hills, through mud and over uneven terrain.
"I think faith in humanity was restored, being the recipient of such grace and such help and love," Skeesuck said. "It was truly amazing."
They finished the 500-mile trail in 34 days.
Now, Skeesuck and Gray are releasing a documentary about their trek, aptly titled I'll Push You. They want to spread the message of love and support they encountered so much during their journey.
"The people that surround us, that carried us up these mountains, they've given so much," Gray said. "I want that to be a testament to how we're supposed to live our lives. Whoever we come in contact with, whatever their walk is, the greatest gift we can give them is to love them."
Skeesuck added, "You don't have to be defined by your limitations. It's what you do in spite of those limitations that defines you."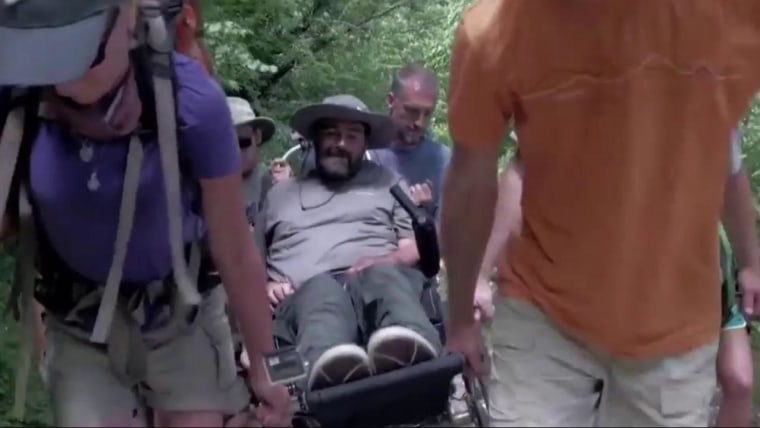 This article was originally published on