Illinois Health Director Cries While Giving Update On COVID Deaths
by Julie Scagell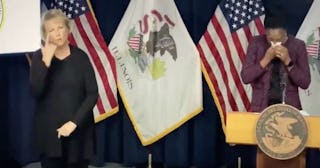 Twitter/GovPritzker
Illinois and most other states are seeing record spikes of coronavirus cases
The Illinois Director of the Department of Public Health, Dr. Ngozi Ezike, broke down during Friday afternoon's press briefing while talking about the growing number of coronavirus cases and deaths in the state.
Ezike was talking about the number of new deaths and cases that took place the day prior and had to hold back tears to continue to update viewers on the state's outlook. "Since yesterday we have lost an additional 31 lives, for a total of 9,418 deaths," she said. "These are people who started with us in 2020 and who won't be with us at the Thanksgiving table. Today, we are reporting 3,874 new cases, for a total of 364,033 confirmed cases since the start of the pandemic."
"Excuse me, please," Ezike then said, pausing several times. Someone brought her a box of tissues and she turned around to give herself a minute. "I'm sorry."
Just yesterday, over 83,000 new coronavirus cases nationally were reported and the CDC issued a dire warning. "We easily will hit six-figure numbers in terms of the number of cases," Michael Osterholm, director of the Center for Infectious Disease Research and Policy at the University of Minnesota, told CNN Friday night. "And the deaths are going to go up precipitously in the next three to four weeks, following usually new cases by about two to three weeks."
Ezike continued, telling Illinois residents that she understands the mental and the emotional toll that the pandemic is taking on everyone, herself included. "Not just because I'm asking people, it's because I'm feeling it and living it myself," she said. "I don't get to live in some COVID-free bubble, exempt from all the pain and tragedy of this pandemic. So I understand how pandemic fatigue is striking everyone. It's real."
She continued: "The way we work, the way we live, the way we play has changed, and the harsh reality is that the sacrifices we've made, that we continue to make do not have a future expiration date. And I know that that's difficult."
The New York Times reports that Illinois, along with 33 other states in the U.S., are seeing spikes in coronavirus cases as the third wave of the virus rages. the state is reporting an average of 4,131 cases per day, an 81 percent increase from the average just two weeks ago.
Ezike also urged viewers to continue to practice social distancing, wear masks, and do what it takes to get to the other side.
"This is what we will have to do to bring the spread down in our community…Let's please work together. I know many of you are healthy and don't have a concern in the world of dying from this COVID," Ezike said. "I would say that of course there are some people whose chances are much lower. But let's please think beyond ourselves. And think about the people we could unknowingly infect who may not be as fortunate."
Information about COVID-19 is rapidly changing, and Scary Mommy is committed to providing the most recent data in our coverage. With news being updated so frequently, some of the information in this story may have changed after publication. For this reason, we are encouraging readers to use online resources from local public health departments, the Centers for Disease Control, and the World Health Organization to remain as informed as possible.