I Truly Don't Know How I Got COVID-19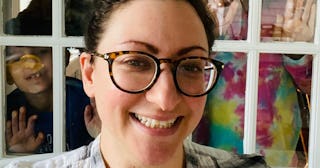 Courtesy of Sara Klein
"Sara…you're positive."
The words hit me hard. I mean, what??!!?? How is that even POSSIBLE?
And if I'm positive, why is the rest of my family negative? My daughter started crying. My son was silent. My husband assured me that it had to be a false positive. I tried to process what was happening.
My mind started racing. Was it true? It had to be true. I had felt a headache come on earlier this morning, but I did drink my coffee a little later than usual. I had felt a little achy the day before, but we'd just gotten a new mattress, and I always feel sore after a night in a new bed. Oh, and my dog seemed sick yesterday! Maybe he had COVID? Do dogs even get COVID? Oh shit, my son crawled into bed with me last night! But he's negative. At least for now! How did I possibly get COVID? Had I been careless? How could this happen to us? To me?
I am a rule follower by nature. Always have been, always will be. When word of the pandemic spread in March of 2020, I was prepared and ready for a quarantine with my family. I assigned the kids to disinfect doorknobs and handles daily. I washed anything and everything I could get my hands on. I ordered everyone their pick of reusable masks. I purchased Tylenol, a pulse oximeter, eight boxes of Cold-Eze (apparently the zinc in these is useful in fighting viruses), Gatorade, plenty of tissues, and a new thermometer in case any of us got sick. We didn't leave the house from March to June, except for neighborhood walks with masks on, of course. We relaxed ourselves a bit over the summer and fall as the infection rate went back down in our area and began socializing in small groups outdoors. My kids have been in virtual school since March. We've celebrated Passover, Rosh Hashanah, Yom Kippur, and Chanukah alone.
I'm also a rule enforcer by profession. I oversee student life at a university, including Student Health Services. I've spent the last ten months directly managing much of the COVID response for my institution. I've developed our policies regarding COVID compliance, and I've had to send many students home who could not, or would not, behave accordingly. I've created our process for isolating and quarantining ill and exposed students, and I help to oversee the required weekly on-campus testing for students, faculty and staff.
Since I've been working from home for the past ten months, I haven't been tested for COVID. I only got tested now because I was traveling to our home in Massachusetts for the 10-day winter break. So my husband and I packed up the car with 10 days worth of stuff, our kids, and the dog and stopped for our appointments at a drive-through testing site on our way up North. That is when I learned that I was positive.
As we immediately turned the car around, masks tightly secured, windows wide open, my daughter sobbing in the backseat, my husband and I tried to unravel the mystery of how this had happened. If I was positive, why wasn't he? He and I had spent the last four days doing everything together. It was confusing. We debated stopping somewhere for a PCR test to confirm the rapid test result. Maybe it was a false positive.
I called Maggie, the Director of Student Health Services on my campus, to share the news and get some guidance. For context, Maggie and I have spoken to each other no less than 15 times a day since March. We've been battling this virus on campus together, step by step, since we first heard the term, "COVID".
She screamed when I told her the news. Then she quickly shifted to her RN role and began rattling off questions to assess my condition and help me contact trace. Yes, she assured me, it certainly could be a false positive. But it also might not be. Regardless, in the eyes of the Department of Health, I have COVID.
As we continued on our drive home, I texted my closest friends and family to share my status and assure them that I felt fine. Then I walked into my house, grabbed my favorite snacks from the kitchen, and closed myself into the guest room.
I sat down on the bed and had a long, hard cry.
I have worked 14-16 hour days, including most weekends, since March of 2020. My job is fairly high-stress in a typical moment, but these past ten months have been the most stressful of my career. On top of that, I have two young children and a new puppy, and my husband is required to go to work in-person, leaving much of the daily oversight of the kids, puppy and house to me.
I am burnt out beyond belief. This winter break was to be my first time to truly relax in almost a year.
I don't know if I was crying because I was about to spend my much-needed vacation time imprisoned in our guest room, or because my kids were scared, or because I was scared, or because I had ruined the break for my whole family. I am an extremely positive person, but for the first time in a long time, I felt defeated. I have no control over this. I can't fix it.
I spent the first night obsessively googling all of the questions I had about COVID, trying to figure out what the next ten days would look like. I opened the pulse oximeter and taught myself how to use it. I popped Cold-Eze every hour on the hour. I took my temperature no less than nine times that first night.
As the days have progressed, I feel extremely fortunate that I continue to be asymptomatic. Besides the psychological nightmare of being an extrovert stuck in a room by myself for ten days, I am one of the lucky ones (so far). I wake up each morning truly grateful to be alive and feeling healthy. It certainly forces a person to stop and really appreciate life.
I am thinking deeply about the fact that I simply have to accept that my body and mind needed this break. I've been through the mill this year (who hasn't?), and it's about time I took a backseat. As I type, my 10-year-old daughter is baking me s'mores cupcakes. Yeah, I needed this.
Will my house look like it was robbed when I leave the confines of the guest room? Yes, it will. Will I obsessively clean for the ten days following my release from isolation? You bet. Will I break out of this room like Maria on the hilltop in "The Sound of Music"? Obviously. Will I appreciate my husband, kids and puppy that much more when this is all over? For sure.
I'm not sure what the lesson is here. As I said, I'm a rule follower. I've followed all the rules. I don't know how I ended up in this situation. I hope that all of you reading this are also following the rules, but that you also recognize that none of us are immune…yet. This virus can sneak up on you.
When you get the chance, I urge you to get vaccinated. You may not be as lucky as I am.
Here's to a much better 2021, filled with vaccines and a serious amount of hugs.
This article was originally published on