'I'm Sorry… Love, Your Husband' Is The Book Every Mom Needs (Trust Me)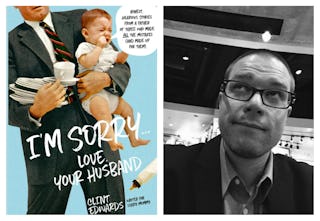 Clint Edwards/ Page Street Press
I am thrilled to say that Scary Mommy staff writer, and the author of the popular dad blog No Idea What I'm Doing, Clint Edwards has released his newest book! This may be his best yet.
While the title of his blog might sound like he's lost when it comes to the parenting adventure, after reading his new book I'm Sorry…Love, Your Husband, I'm convinced he's a liar. Scratch that. I know he's a liar. He's just being humble. Clint has a few words about marriage and family that we can all appreciate. As I read this book, I couldn't help but nod my head.
And when I wasn't nodding, I was laughing.
Although …Love, Your Husband is written by a man, don't be deterred. He most certainly had moms in mind with chapters like "Dad Can Stay Home With the Kids, Too, Ya know," "Maternity Leave Isn't a Vacation," and "25 Things People Do Daily That Are More Shameful Than Breastfeeding."
There were also sections that helped me better understand my husband, and others that I read out loud to him because I knew he would be able to relate (or get a good laugh).
The chapter "I Wasn't Man Enough To Witness Childbirth" in particular begins as a hilarious anecdote about childbirth, but slowly moves into a heartfelt dedication to the strength of mothers. For example, this is what he had to say about his wife's C-secion: "It was remarkable, and I can still recall thinking that she was stoic and strong and powerful and giving and dedicated and over all, the most badass person I knew."
If that doesn't make you want to buy this book, than I'm sorry, we can't be friends!
Clint has three children, two girls, and one boy, and with chapters like, "Not Withstanding My Lack of Qualifications, Being a Father of Daughters is Pretty Remarkable," "My Kids Will Never Act Like That (How Wrong I Was)," and "Let's Talk About Poop For a Moment," it's pretty difficult not to find something to relate to here. Like all parents, Clint loves his kids, but he also finds them completely maddening.
This line in particular gets me: "If I were ever in a situation where my life depended on my children finding their shoes, I'd be dead. For sure." We should meme this. Oh wait, he already has.
Ultimately, …Love, Your Husband is a book of apologies (seriously, who doesn't want to read a book about a man apologizing?), and as the chapters unfold, I couldn't help but see a man very in love with his wife (who you will love) and children, who is willing to admit his mistakes and learn from them. As a wife and mother myself, who is immersed in the parenting media world for a living, I can say honestly that Clint captures the very real struggle of marriage and family in the most wonderful and hilarious ways.
I'm Sorry…Love, Your Husband, is available now for $16.99. Great gift for new parents, moms, dads, grandparents, and all of your besties. Buy the book.
This article was originally published on