Teen Iman Vellani To Play Marvel's First Onscreen Muslim Superhero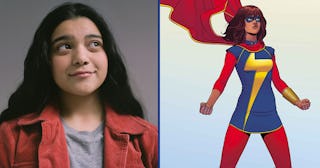 TIFF/Marvel
The casting of newcomer Iman Vellani marks a major win for representation
Ms. Marvel, the first Marvel comic-book series featuring the first Muslim superhero, is coming to Disney+, marking a major win for representation. This week, the studio announced they have found their leading lady: Iman Vellani, a Pakastani-Canadian teen and a fresh face in Hollywood has been cast as the boundary-breaking lead character, Kamala Khan.
The comic book series has been around since 2014, and the screen adaptation will mark Marvel Studios' first onscreen Muslim hero. The script written by Bisha K. Ali will center on Khan, a Muslim American teenage superhero who lives in New Jersey. Deadline reports that Adil El Arbi, Bilall Fallah, Sharmeen Obaid-Chinoy and Meera Menon are directors on the project.
According to Deadline, the "plan always was to stay true to the character in finding the right actress to play the role, even if it meant offering a person that was not well known to the public." They also revealed that "in addition to appearing on the small screen, Kamala Khan will be included in future Marvel films."
Vellani, who is relatively unknown in Hollywood, was one of 12 teens handpicked for the 2020 Toronto Film Festival's Next Wave Committee, a group formed to offer diverse voices to the industry.
So, who is Ms. Marvel exactly? And what role will Vellani's character play in the franchise? Marvel explains that her character has an "an Inhuman ability to alter shape and size [and] employs an idealistic attitude as much as any power to make the world a better place."
Hollywood stars rallied around Vellani and the studio's casting decision, declaring it a win for representation.
"What a joy in these trying times to see that #MsMarvel (a Pakistani American teen superhero!) has cast its lead role, a young actress named Iman Vellani! Congrats to you! I can't wait to see the show!" wrote Mindy Kaling, adding the hashtag #representationmatters.
"I just saw they cast Ms. Marvel and legit got teary eyed," added American-Pakastani actor and comedian Kumail Nanjiani. "Congratulations Iman Vellani! Your work is going to mean so much to so many people, myself included. I can't wait."
We, also, can't wait to see Iman Vellani dominate the Marvel Universe.