Immigrant Caravan Surprised With Screening Of 'Coco' On Day Of The Dead
by Cassandra Stone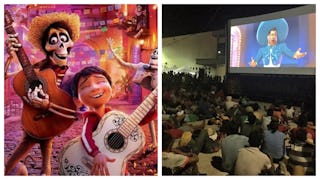 Image via IMDB/Twitter/Nick Oza
The movie viewing was a welcome break for weary caravan travelers
Earlier this week, one of the migrant caravans moving through Mexico toward the U.S. border stopped in Oaxaca to rest. Locals there greeted them with a hot fresh meal and a special, surprise screening of Disney's Coco — right before the Mexican holiday Dia de Los Muertos.
Journalists traveling with the caravan captured the event, which was organized by the local municipal government in Oaxaca. The entire event was powered by solar energy.
Coco is a popular Pixar movie, which celebrates Dia de Los Muertos (Day of the Dead) — where many Mexican families honor their deceased loved ones. In the movie, 12-year-old Miguel enters the Land of the Dead by accident and seeks help from his deceased musician great-great-grandfather to find his way back home to the living.
The migrant caravans are currently en route to the U.S. from El Salvador, Guatemala, and Honduras. They're full of many women and children who are fleeing violence in their home countries to find safety here.
The Chicago Tribune is reporting an estimate of 5,000 migrants are now making the march. Earlier this week, Donald Trump suggested that U.S. troops should shoot immigrants who protest by throwing rocks at the border. It's disturbing rhetoric for a situation that should require compassion and understanding instead of violence. As fatigue from the heat sets in, numbers have dwindled a bit — but a significant group of people is still determined to get to the U.S.
Journalist Alice Driver is traveling with the caravan and noted that during the screening stop in Oaxaca, volunteer organizations like the Red Cross were also providing medical attention to those who need it.
In regard to the 15,000 troops Donald Trump is sending to the U.S.-Mexico border, Driver hopes the military response will be appropriate as well as compassionate — especially toward the mothers and children: