In Defense Of Those Who Tell You To "Enjoy Every Moment"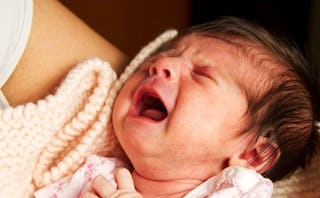 "Enjoy every moment!"
OK, I would never say that to the parents of young children. That's a dick move. I remember how exhausting it was, how unrelentingly needy they were, how scared I was that I was doing all wrong, how sure I was I would never again sleep through the night/go to the bathroom by myself/finish the day without food in my hair/get to shave both legs on the same day. In fact, I'm pretty sure I have mild PTSD from those years. It. Was. Hard.
So no, I would never say that to the parents of young children. But here is a thing I would say: Have you ever had your heart utterly, completely broken by someone you missed long after you should have been over it? A romance that marked you, changed you, made some song or some movie or some season or some stupid little joke forever painfully poignant and fraught with loss? Have you just gotten crushed and had to eat ice cream straight out of the carton, seasoned with tears?
Well, those unhinged assholes telling you to enjoy every moment with your little, screaming, sticky children are caught in the throes of precisely that kind of heartbreak. They are looking at you and that soft, dimpled creature and they are remembering only the soft-focused best of that long-gone romance that will never, ever be back. They can't even Facebook stalk this ex because he/she is gone forever, transformed (and, yes, I'm sorry, but it DOES happen so quickly) into an utterly different creature.
Those clouds of soft, wild hair have turned into teenage dreadlocks or that douchey boy-band hairdo they slick up in the front with gel. Those tiny, dimpled hands reaching for you – and you, only you, no, not that one, YOU – are waving 'bye over broad shoulders as he grabs your car keys and the last $20 from your wallet. That back-of-neck baby smell that releases all those happiness chemicals in your brain will be replaced by a teenage funk that, if weaponized, could bring entire empires to their knees.
Looking at old pictures doesn't really help. In fact, it's sometimes physically painful to haul out the images of those long-gone babies, to see in those round, guileless faces and gummy grins the faint outlines of the adolescent somewhere up ahead. Was he ever that small? (Yes, he was, and I was so, so tired…)
My 15-year-old son recently asked me if I wished he were little again.
"Not really," I said truthfully. "My life is easier now that you're so big and smart and strong, and you can help me with stuff and teach me things. It's a lot of fun to have big kids. But I would love a visit."
"A what?"
"I would love it if I could have 2-year-old you back for about three hours," I explained. "I would like to feel the weight of your warm little body in my lap again, and hear how you spoke in that little helium voice … just for a little while."
"Weird."
Yeah," I sighed. "It's weird."
But time doesn't work that way. And no, I would never tell the parents of young children to enjoy every moment, because wow, it's a tough time and that's a dick move. But I might say, hey, it's a lot more temporary than it feels right now. The good, the bad, the days that take months to drag by, the months that disappear in a flash. It's all so temporary.
They'll be gone soon. You won't enjoy every minute. But maybe try to consider these incredibly demanding years with the tenderness you would reserve for an intensely felt and ultimately doomed romance.
Because there just isn't enough ice cream in the world for this particular heartbreak.
This article was originally published on