In Defense of Kat von D's Lipstick, 'Underage Red'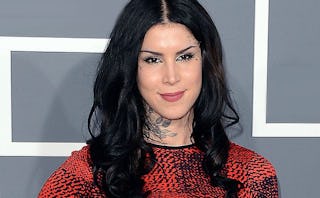 So when I heard that Twitter was exploding over the fact that Kat von D had named one of her lipsticks "Underage Red," my first thought was something along the lines of: Damn, why didn't I think of that first? Is the name provocative? Well, duh. But really, I kind of don't get why this is such a big deal. And I have a 12-year-old daughter! But ever since Chanel released "Vamp" back in 1995 and Nars' "Orgasm" became the best-selling blush in the country, makeup companies have gotten increasingly cheeky with their designations. There's "Nymphette" by MAC, "Pussy Galore" by Urban Decay and—my personal favorite—a chocolate brown eye shadow from Urban Decay named "Backdoor." You see what they did there, right?
Kat von D took to Facebook to defend her decision, stating "'Underage Red' is not a girly, pink shade. It is not a sophisticated, deep red either. It is an unapologetic, bold red. To me, 'Underage Red' is feminine rebellion. These wild, and horrific accusations proclaiming that any aspect of my makeup line would ever promote the degradation of women… goes against everything I stand for. If you read the word "underage" and you automatically jump to a disgusting conclusion, I ask you to perhaps question your own mind and thoughts. Consider the damage such negativity can actually cause. So, NO. I refuse to sacrifice my integrity and creative freedom. NO. I will not be pulling 'Underage Red' from my collection. And NO. This is not an apology."
Kat von D for president! While I'd love to dash over to Sephora to get my hands on this little tube of nostalgia, it looks like I may to have to wait awhile. Not surprisingly, the shade is already sold out. I wonder if they still make Stiff Stuff.
This article was originally published on