Ina Garten's Cocktail Outtakes Video Is Basically Real-Time Footage Of Us This Year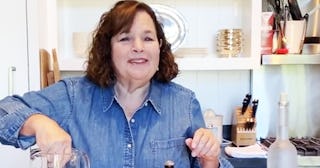 Ina Garten/Instagram
'What am I missing? Oh, vodka' is now the official tagline of 2020
Since 2002, the Barefoot Contessa has given the people what they want: Approachable, easy-to-make comfort food dishes? Check. Quotable one-liners that would stand the test of time, like "store-bought is fine"? Check. An unabashed love for oversized cocktails and red wine? Of course. A real-life love story that'll make you make you sob like a baby? Ohhh, yeah. And now, Ina Garten has one more gift to add to the list: relatable cocktail outtakes that basically pass as real-time footage of all of us amid this filthy garbage fire of a year.
To tease the new season of her hit Food Network cooking show Barefoot Contessa — it's the show's 27th season, believe it or not — Garten took to Instagram to share a hilarious bloopers reel of her cocktail-related outtakes; and we honestly haven't laughed this hard in a long time.
"A NEW SEASON of Barefoot Contessa starts on Food Network this Sunday… and it's a little different this time," Garten wrote. "We are looking back at some of my favorite recipes, plus we've added new ones that I filmed all by myself on my iPhone — and as you can tell by the cocktail reel bloopers, it was crazy!"
The reel's full of incredible one-liners, like…
"I love making cocktails,"
"They're fun to make and they're fun to drink,"
"I love having a job where you have to drink on the job,"
"I'm not gonna get much done today,"
"A good excuse to drink at 10 o'clock in the morning," and
"I'm gonna be asleep by 11."
Garten may also adorably botch the word "Worcestershire" in "Worcestershire sauce" (been there, done that), but absolutely nothing beats Garten's, "What am I missing? Oh, vodka."
If you're anything like us, you've watched this video on repeat since it was posted four hours ago. And if you have nothing else going on this Friday night, take a sip of your Quarantine Cocktail every time she says, "Cheers!" (OK, don't actually do that, but we had to shout-out that supercut.)
"In addition to writing recipes, I get to add hair, makeup, food stylist, prop stylist, cameraperson, audio tech, AND director to my resume!" Garten writes. "I never missed my TV crew more! I hope you love the shows!"
The new season of Barefoot Contessa premieres Oct. 25 at 12/11c on Food Network. Garten also recently released her much-anticipated 12th cookbook, Modern Comfort Food, on Oct. 6, weeks ahead of her original release date of Oct. 27.
"I knew that there was going to be an election a month after it came out," Garten says of Modern Comfort Food in an interview with The Cut. "And I thought everybody, no matter what side of the aisle you're on, was going to need comfort food. Little did I know that at this point in time, it would be the, you know, nexus of all the race demonstrations and COVID and the election and all the stress that's happening in the world — just extraordinary. Turns out we needed it more than ever."
More. Than. Ever.