Ina Garten Is Hosting A Virtual Fundraiser For Joe Biden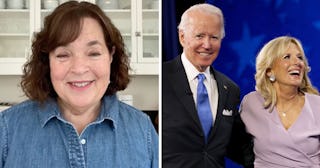 Ina Garten/Instagram and Win McNamee/Getty
You better believe Ina Garten and Dr. Jill Biden will be sipping on cosmos — and watermelon-flavored cosmos, at that
Ina Garten has — and will always be — our dream BFF, and it's never been more clear than this year. Remember in April when the Barefoot Contessa star kicked off her quarantine with an enormous cocktail the internet dubbed the Quarantine Cosmo? "It's always cocktail hour in a crisis!" the Culinary Queen captioned the video that showed her pouring two cups of "good" vodka into her oversized martini glass. Boom, instant BFF material. And then, remember when she taught us all how to make Memorial Day Steaks — with an always-full glass of red within reach? Pure class. Now, Garten is dusting off her martini glasses and hosting a virtual fundraiser for none other than Joe Biden.
https://www.instagram.com/p/CE4ObHwDWAR/
Tonight at 8/7c, Garten and Dr. Jill Biden, Joe's wife, will take part in "Cocktails and Conversation," an online fundraising event for Biden's campaign. Ticket prices range from $250 per guest to $10,000 for a Chair-level ticket. And during the virtual chat, not only will Garten provide the recipe for one of her signature drinks, the "Winning Ticket Watermelon Cosmopolitan," but she will also interview Jill, chat with virtual guests and "have a really good time together," she tells People.
"The only other person I've ever interviewed was actually Mrs. Obama," Garten says. "And I've certainly never done anything like this virtually, but everybody tells me Dr. Biden's wonderful, and that we'll have a really good time together."
Garten isn't typically one to speak publicly about politics, but this year is clearly the exception.
"I'm not political. I think if you research you'll find I've supported political programs privately, but I've never been really public about it—but sometimes you just have to do it," the former White House nuclear budget analyst tells People.
"As a country, we need to pull this together," Garten continues. "We need to stop being divisive and be positive and supportive and collaborative. [Biden] is a guy who's been in Congress for decades and has a reputation for working across the aisle, and I think that's exactly what we need right now."
Jill is no stranger to hosting virtual chats in support of her husband's campaign. A few weeks ago, she spoke with LGBTQ+ advocate and New York Times bestselling author Chasten Buttigieg for "An Out for Biden Conversation." And more recently, on Aug. 28, she chatted with Navajo Nation's First Lady, Phefelia Nez, criticizing the Trump administration's treatment of Native Americans amid the pandemic, AZCentral reports.
"The COVID pandemic really unveiled the true needs," Nez said. "When you talk about help and resources coming from the federal government, it was just nonexistent from the beginning. … For the Navajo Nation itself, when we needed assistance, it didn't come."
https://www.instagram.com/p/CAGAV6jFgnu/
While we don't know the talking points for Garten and Jill's conversation, we do know it'll be engaging — and only partly due to the watermelon-flavored cocktails.
"Cheers! Is it cocktail time yet?" Ina closed her most recent Instagram video. "Wait, didn't someone say in a pandemic it's always cocktail time?"
Yes, Garten. Always.