Ina Garten And Melissa McCarthy Team Up For 'Cocktails And Tall Tales'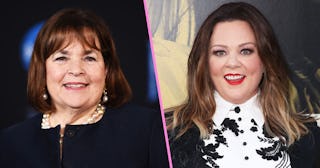 Amanda Edwards/David Livingston/Getty
Ina Garten and Melissa McCarthy will be on discovery+ starting March 26
If you could choose two people to grab a drink with, at the top of that list would be Ina Garten and Melissa McCarthy. Thanks to discovery+, we will all be able to virtually join them on March 26 as they mix cocktails and chat about life.
The Barefoot Contessa herself will be joined by Bridesmaids alum McCarthy for Zoom cocktails on the new streaming platform. Garten announced the collab made in heaven on social media, asking fans to send her questions she could ask the comedian.
"So excited to be having Zoom cocktails with @melissamccarthy! Does anyone have a question they'd like me to ask her about acting/food/life? I'll let you know when our conversation will stream on @discoveryplus Stay tuned!" she wrote on Instagram.
The half-hour special will be called Cocktails and Tall Tales with Ina Garten and Melissa McCarthy, and honestly can we just fast-forward to March already? The best part — Jeffrey and McCarthy's husband Ben Falcone are joining in on the fun.
According to a press release, the show was filmed in both Garten's home in East Hampton, New York, and outside of Sydney, Australia, where McCarthy and her family are currently living. "Fans of Ina's 'Quarantini' from last spring will be able to update their own drinking game, as the ladies explore a new cocktail concoction."
"We have all been stuck home looking for new ways to make it through each day safely and when the opportunity to meet and maybe have a drink with Melissa was presented, I immediately cleared my schedule," said Garten. "Melissa is a brilliant comedic talent who I have long admired and I think she and her husband Ben would make an excellent double-date couple for Jeffrey and myself."
McCarthy is way into the idea of spending time with Garten, too. "The fact that Ben and I are having a double-date via Zoom, with our soon-to-be new best friends Ina and Jeffrey Garten seems like a wonderful fever dream. I mean, two of our daughter's first words were 'Ina' and 'ganache'…Seriously."
In her social media announcement, she, like many of us, admitted in her everyday life she often asks herself "WWIGD" which is short for "What would Ina Garten do?"
Garten, who often delights us all with her love of cocktails during her show, is a gem and someone who has gotten us through the pandemic. Her meals are always simple, easy to follow, and her love for her husband is nothing short of inspirational. Adding McCarthy's wit and charm to anything the Barefoot Contessa does just feels like magic.
Cheers!