There's A Livestream Of The Biden-Harris Inauguration Just For Your Kids!
by Christina Marfice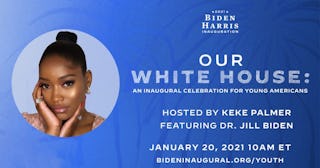 Biden Inaugural Committee/Youtube
Here's how you can make a livestream of the presidential inauguration fun and educational for kids to watch
It's finally here. Today is the day that Donald Trump leaves the White House for good (in fact, he already has) and Joe Biden will be sworn in as the next President. While threats to national security and public health have necessitated a pared down public ceremony, there will still be all kinds of inauguration events today as Biden takes over leadership of the country. And, for the first time ever, the Presidential Inaugural Committee has created special resources just for kids so they can watch, enjoy, and learn from the transition of presidential power.
"As we bring Americans together for a historic and inclusive inauguration of President-elect Biden and Vice President-elect Harris, we want to ensure that we are engaging folks of all ages and bringing families together in their homes to celebrate a new beginning for the country and an America united," the committee CEO said in a statement.
For families who want to watch the inauguration together, Keke Palmer will be hosting a livestream event on YouTube that's specifically for kids. It will feature a special guest message from Dr. Jill Biden, commentary from historians Doris Kearns Goodwin and Erica Armstrong Dunbar, a Nickelodeon segment about presidential pets, trivia questions asked by Doug Emhoff, segments produced by the Library of Congress, and more. Honestly, this sounds way more fun than the NBC livestream, so adults are welcome and encouraged to tune in, too. You can watch that on YouTube beginning at 10 a.m. Eastern.
That's not the only kid-focused resource for this year's inauguration, though. Yesterday, the Discovery Channel debuted "I Do Solemnly Swear: The U.S. Presidential Inauguration," an online experience that acts like a virtual field trip so kids can explore the Capitol Mall and learn about the history and significance of American inaugural ceremonies. This online event is free and includes interviews with experts and historians, as well as a welcome message from Dr. Jill Biden. You can access it here.
And finally, for kiddos who are too young for a livestream or a virtual field trip, PIC has developed a free, downloadable coloring book filled with images of the President- and Vice President-elect, Biden's dogs Champ and Major, images celebrating a newly united America, and more. Actually, now that I'm thinking about it, certain adults (ahem, me) could do with some coloring this morning, too. BRB, gotta find my colored pencils.
This article was originally published on