4-Year-Old In A Wheelchair Stops In Her Tracks When She Sees A Model That Looks Like Her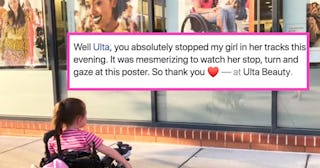 Carolyn Kovacs Anderson/Facebook
A little girl who uses a wheelchair stopped and stared at an inclusive Ulta poster and the image went viral
Moms are known to capture the most beautiful moments in their kids' lives. Recently, Leesburg, Virginia mother, Carolyn Kovacs Anderson, did just that when she snapped an image of her daughter, Maren, who uses a wheelchair, staring at an inclusive beauty campaign ad by Ulta Beauty.
What's so sweet about the image, which has since gone viral, is that the model in the poster is also using a wheelchair. Surely, it's something the girl, who is only four years old, hasn't seen very often. It's clear that's why she was so transfixed.
When Anderson shared the image, she likely imagined her friends and followers would share in her appreciation of the moment. But the image made its way around the internet. And fast.
She posted the picture on Wednesday and it now has over 72k shares and over 2,000 comments.
"Well Ulta, you absolutely stopped my girl in her tracks this evening. It was mesmerizing to watch her stop, turn and gaze at this poster. So thank you," she wrote in her post.
It truly is a beautiful sight to see and we're so glad (as is much of the internet) that we all got to see it, secondhand, too.
Carolyn told Scary Mommy that her daughter is one special kid. "Maren is a dance-loving, babydoll-toting, bike-riding little girl with the most infectious giggle and smile! Since day one, she's shown great motivation and tenacity and worked hard to overcome the challenges of her rare disease," she says. But while Maren has challenges that most kids her age don't have, overall, she still wants the same things, her mom shares. "All she wants is to be accepted for who she is, and represented like everyone else."
It's clear from this picture how important, maybe even a little magical, that kind of inclusion is. Seeing a bit of herself in a beauty ad meant a lot to her. So, bravo to Ulta Beauty for the gorgeous ad that represents people who use wheelchairs. Because those kids (and adults!) deserve to feel seen and to see themselves in the world around them, too. But it would be great if it happened even more, too.
"It is our hope that families who see images like the one at ULTA will have open and continued dialogue with their children about inclusion," Carolyn said. "Our wish is that one day it won't be newsworthy to see our daughter and other people with disabilities represented, it will be commonplace."
The fact that Carolyn shared it so other folks, as well as potential advertisers can see the impact is undoubtedly a good thing. Because maybe it will even inspire such inclusion from other beauty companies sooner rather than later. "We hope that Maren's awestruck reaction to this advertisement inspires more inclusion and representation of the disability community, and highlights the need for continued progress. We want Maren to always know that she belongs everywhere – everyone deserves to live in a society where they can be themselves and thrive."
We hope so, too. More power to Maren and to beauty campaigns that make kids like her feel a sense of true belonging. It's what every kid surely deserves.
This article was originally published on