Indie Bookstores Are In Danger Of Extinction — Here's What We Can Do
by Clint Edwards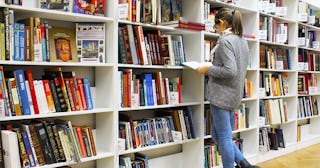 Pixabay
If you have been driving past your local independent bookstore, it's quite probable that you might see a "closed" sign. According to the American Booksellers Association, more than one independent bookstore has closed each week since the pandemic began, and 20% of indie bookstores might not survive the year. As a lover of books, and bookstores, I must say, this breaks my heart. And not to surprise anyone, the biggest competitor to independent bookstores is (drumroll please) Amazon. In fact, the American Booksellers Association has started a campaign recently, and if you don't see a closed sign on your local independent bookstore, you will most likely see something like this in the window:
"Buy books from people who want to sell books, not colonize the moon."
"Amazon, please leave the dystopia to Orwell."
"If you want Amazon to be the world's only retailer, keep shopping there."
The push is to send your holiday book buying business away from Amazon, and to your local bookstore so they can keep afloat during the pandemic … and, well, forever. Right here, and right now, please realize that your local bookstore needs you, and they need you badly.
To give you an idea of what they are up against, most local booksellers make the majority of their money from foot traffic. Take the example of Vroman's Bookstore, a 126-year-old institution in Pasadena, California. According to The New York Times, it has more than 200 employees, and just over 20,000 square feet of space. Even with the pandemic and sales down, rent is still due. In a normal year, Vroman's Bookstore hosts anywhere from 300 to 400 events, bringing in authors for readings and signings, along with customers who buy books, and maybe a cup of coffee or glass of wine. But none of that is happening this year.
In contrast, what most independent bookstores are dealing with is a massive decline in sales, and an increase in cost due to the pandemic. Jamie Fiocco, an owner of Flyleaf Books in Chapel Hill, North Carolina, and the board president of the American Bookseller Association, told The New York Times that, "If someone told me this time last year I would be spending $20,000 on postage and shipping materials and P.P.E. and extra cleaning for the stores, I wouldn't have believed them. We just didn't have those line items in our budget, or if we did, they were inconsequential."
Naturally, independent bookstores are finding creative ways to make ends meet. Take my most known local bookstore, Powell's of Oregon. They recently started selling book scented perfume, and it's THE stocking stuffer for book lovers. I can't think of a better gift for anyone who has been longing for the smell of a bookstore, but has been doing their part of staying home to flatten the curve. Avid Bookshop in Athens, Georgia., sends personalized URLs to customers with a list of handpicked recommendations. And as you all know, walking around a bookstore is a great way to find new books. Getting a list of recommendations from a local bookstore might just be the next best thing. Green Apple Books in San Francisco raised $20,000 selling T-shirts, hoodies and masks that said "Stay home, read books." Third Eye Books, Portland's only Black-owned bookstore, was forced to close their storefront due to the challenges of COVID-19 restrictions, but they are still open online and able to fill orders quickly ( with the best customer service you'll ever find.)
And back to Powell's, well … they were forced to close their very popular and well-shopped Portland Airport location permanently back in July. And as someone who often bought books at that location to read on long flights, I can't help but feel a tinge of sadness.
All in all, what it all comes down to is this, my friends: it is early December. Many of you are frantically shopping for holiday gifts, and many of those gifts will (hopefully) be books. And one of the best ways to support your local economy is to buy those books from your local bookstore.
Listen, you don't have to go inside the store and risk COVID-19 infection. Most booksellers are offering free curbside pickup. Some are taking appointments, so you can browse the store safely. If neither of those are an option, all you need to do is go to indiebound.org. I don't know if this is the best comparison considering the situation, but Indie Bound is basically the Amazon of local bookstores. You can order the book online, support your local economy, and have that very special gift sent right to your door. It doesn't get much easier than that.
Honestly, Amazon doesn't need any more money. They don't. And I'm not here to tell you to stop shopping there completely, as I know we are all trying to save money. But your local bookseller is struggling, and bookstores are an important part of our communities, so changing your shopping habits in small ways can make a huge difference here.
If we all pitch in together, once this pandemic is over, we will still have those magical local bookstores to shop in and escape to.
This article was originally published on