Couple Creates Infertility Announcements To Show The Struggle Is Real
by Megan Zander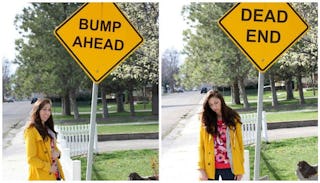 Image via On an Adventure
Couple creates tongue-in-cheek 'infertility announcements' to show support for those dealing with fertility issues
If you're currently battling or ever struggled with infertility, then you're familiar with the double-edge sword that is seeing a friend's cute and clever pregnancy announcement on social media. As much as you're thrilled for them and their good news, having these posts pop up in your feed stings a little, since you can't help but be bummed by your own crappy luck.
Knowing all to well what this infertility roller coaster feels like, one day while on a road trip Whitney and Spencer Blake of On An Adventure came up with the idea to take the pregnancy announcements we've all seen before and make their own hilarious versions with an infertility twist. Behold, the awesome infertility announcements you'll wish you thought of first:
Their oven is empty, just like a savings account after fertility treatments.
You'll never look at a dead end sign the same way again.
This one is genius.
Infertility isn't fun, but working on these photos was. "We were laughing to ourselves as we were putting together the infertile scrabble board," the Blakes told Scary Mommy. "Aw man, we ran out of letters to spell 'dusty old uterus'."
In case these photos aren't enough to make you wish they were your next door BFFs for game nights and barbecues, the couple made these infertility announcements after they became the parents to two little boys by way of adoption. They thought the photos could be a way to connect with and show their support for other people going through the experience of infertility, or basically because they're super nice people with adorable kids who remember what it's like to really, really want to have a family when your body isn't on board. "One of the most healing things we did was find others who truly "got" what we were going through," said the Blakes. "Hearing other people's stories about infertility helped take away some of the loneliness and isolation we were experiencing."
To make sure their good intentions are obvious, at the bottom of each photo is a disclaimer. "We are the happy parents of two little boys who joined our family through the miracle of adoption after we had struggled for several years with infertility. Though the infertility is still there, the struggle is mostly not. What used to be such a consuming, challenging part of our life is now usually more of a passing thought. We are so grateful to be parents, but we have not forgotten how lonely and horrible infertility can feel, which is why we thought we'd create something to connect with others who are going through what we went through."
Like the Blakes, my own infertility tale has a happy ending. But just because I am a mom to twin three-year-olds who are currently scattering Legos across the floor for me to step on later doesn't mean I don't distinctly remember how isolating and disheartening it feels to watch your friends each get pregnant while you keep going to doctor appointments without any good news. Seeing one of these infertility announcements after taking yet another negative pregnancy test would have made a crappy day a little less crappy.
And that's the point. "They were definitely meant to be shared, and especially to hopefully lift the spirits of others who struggle with infertility."
Mission accomplished.
This article was originally published on