For $5, You Can Buy Actual Happiness This Summer — A Pickle Pool Float
by Thea Glassman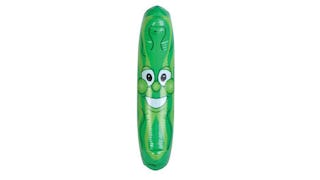 Image via Rhode Island Novelty
Inflatable dill pickle floats are here to make your entire summer better
It's almost, almost summer, which means the time has come to dig out those comfy shorts, start drinking all the lemonade, and attempt a few minutes of sunbathing in peace. If you would really like to take the warm months up a notch, please turn your attention immediately to this line of inflatable dill pickle floats. Yes, you can literally lounge on an oversized pickle in the pool — which kind of sounds like a dream come true. ALSO, they're only $4.59 each, so this can easily be a whole family package deal.
The inflatable pickles clock in at 36 inches long and the reviews are truly glowing. The words "best $5 I've spent" and "nothing says dill like a giant pickle" were thrown around. There were a few complaints that the pickle's face wasn't quite cute enough — but I beg to differ. Just look at those cheeks. Also, it's $5…let's not get too picky here.
Not only will the pickle be an excellent, comfy lounge spot — but it can also serve as the perfect poolside companion. The summer really shouldn't end without you clutching a giant dill pickle and feeding it a frozen boozy drink.
https://www.instagram.com/p/BcGX5AClYYA/?taken-by=rinovelty
Now, if you're really not a pickle person (very fair, it's an acquired taste), but want to get in on the inflatable food fun — you're in luck. There are plenty of cheap, oversized snacks you can lounge on. Like, this truly enormous pepperoni and mushroom pizza ($9.96). Apologies in advance if your stomach is already starting to rumble.
Or, these delicious looking donuts with a bite taken out (because, natch). They ring in at $17.99 each, and come in strawberry, chocolate, and glazed options, with plenty of sprinkles on top.
If you're looking for a slightly healthier food alternative, you can also go with this ginarmous pineapple float ($17.99)— which would go really, really well with the frosty margarita of your choosing.
Whatever option you choose, know that floating around on inflatable food will honestly make your summer so, so much more special.