This Breathtaking Inn Celebrates Christmas 365 Days A Year -- Yes Please
by Julie Scagell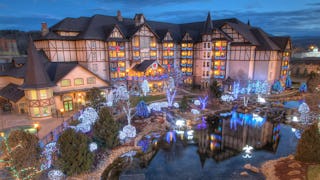 Image via The Inn at Christmas Place
The Inn at Christmas Place is Christmas 365 days a year
If you are someone who wishes it was Christmas all year round (ahem), you'll be pleased to know there is a place you can go jingle your bells any time of the year. The Inn at Christmas Place, located in Tennessee, is the place to be to experience all the magic of the holidays whenever your heart desires.
Set in the foothills of the Smoky Mountains in Pigeon Forge, Tennessee, The Inn at Christmas Place treats its guests to a whole lot of Christmas cheer no matter what month it is. There's always a fully decorated Christmas tree, a Glockenspiel in the lobby playing Christmas carols, wreaths in every room, and even a Singing Santa that's been entertaining guests since the Inn opened in 2007. He also does story time in the lobby on certain days as well, because who better to read you Christmas stories than the big man himself.
The resort is located at 119 Christmas Tree Lane, and their phone number is 1-888-HOLY-NIGHT, because of course it is. While you're there, take a dip in their indoor pool and hot tub (decorated with garland and Christmas lights) or use their business center and on-site gym, both of which also look like an elf exploded inside of them.
For those who really want to get into the spirit, the Inn offers a Santa Suite, with amenities including a private balcony with courtyard view, more Christmas decor than you can shake a reindeer at, a two-person whirlpool, fireplace, and a fully decorated Christmas tree.
Apparently, they also deliver a special present overnight from Santa Claus himself which makes me abnormally excited to discover.
The Inn boasts several events throughout the year, including Christmas in July, which is exactly what it sounds like, Mountain Fest at the end of September, where guests can participate in soap making, apple butter making, storytelling, mountain music and dancing, and hands-on fabric crafts.
And if all this isn't enough to get you excited about the holidays, they also have several special packages to entice guests, including the Dolly Parton's Stampede Package, which includes dinner and tickets to her Dixie Stampede — because we all know it's not really Christmas until Dolly Parton's involved.
This is the perfect place to enjoy all that Christmastime brings without the hassle of buying presents, entertaining family, or cooking a giant meal. And as someone who already has her Christmas sheets on her bed, excuse me while I book this out for the next 40 years.