8 Inspiring Books For The Mom Who Needs A Pick-Me-Up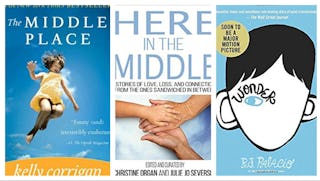 Amazon
If there is one parenting truth, it is this: Once you get used to something, things will change.
And parenting is hard AF.
And life is messy.
Okay, so that was three truths, but bear with me.
Life is messy, parenting is hard, and things are always — I mean, always — changing. Just as soon as you get the hang of breastfeeding, your baby will go on a nursing strike. By the time you get used to having a toddler in the house, you have a kindergartner. And when you finally get used the sleepless nights, you little babies are off to college. Sigh…
Advice, while grounded in good intentions, can be often be overwhelming (and annoying). We want a big giant hug and a pat on the back while someone strokes our hair and says, "There, there, honey."
So, without further ado, behold, our top eight recommendations for books that feel like a big hug. These books are low on advice and side-eye, and heavy on comfort and feel-good-ness (Is that a word? If not, it should be).
Kelly Corrigan is the friend you wish lived next door. She is sweet, funny, and totally down-to-earth — even when going through chemo treatments for breast cancer while her dad is also battling cancer. This book tackles life's challenges head-on, but in a way that feels approachable and not overwhelming. Not only will you fall in love with Corrigan and her family, but you'll feel a little more optimistic about life in general and the power of family.
We all need help getting our mojo back from time to time, and when this happens, the last thing we need is someone telling us what to do and how to do it. Better to sink into a fun beach read and live vicariously through Stella, a middle-age mom who escapes to Jamaica and finds love in a smoking-hot man 20 years younger. You'll be fanning yourself and finding your mojo in no time.
Billed as a book for creatives, this book is actually for everyone. Seriously. Whether you're a writer or a photographer by trade, or if the most creative thing you've done in the past week is cook dinner without looking at a recipe, this book is like a free ticket to Taking Chances. It is basically permission to embrace the YOLO mentality — albeit in grown-up, responsible ways.
Curated and edited by Julie Jo Severson and myself, this collection of 32 essays is for anyone in the Sandwich Generation — which is basically anyone who is raising children while also dealing with aging parents. Instead of giving lots of advice, Here in the Middle is like a giant hug for anyone struggling with issues that affect us when we're pulled in multiple directions.
Like the title promises, Kenison really is the master at making the ordinary seem extraordinary. All mothers will relate to Kenison's doubts and unease as her sons transition into adolescence. If you've ever wondered, What the hell did I do all day? or What am I doing with my life? — this book will remind you that mothering, in and of itself, is pretty damn amazing.
If modern American parenting has got you screaming "Enough!" then this is the book for you. Acosta and Hutchison's chill approach to parenting will have you feeling better about feeding your kids Nutella sandwiches while they watch several hours of television on a rainy afternoon.
We could read this book over and over again (and have!) because it feels like a hug, pep talk, and pat on the back all at once. Not to mention that because all of the protagonists are female, there's a healthy dose of girl power. Set in South Carolina in 1964, the story follows a little girl who ends up living with a trio of beekeepers. Instead of glossing over the devastating impact of loss, it embraces loss as a necessary part of life.
8. Wonder by R.J. Palacio
If you feel your faith in humanity plummeting, this book is a must-read. Heck, it's a must-read for anyone. Following the trials and tribulations of August, better known as Auggie — a teen with severe facial deformities — as he navigates middle school, this book is the antidote to the doldrums and nastiness of the world. It's like a warm slice of apple pie for a world-weary heart. We're especially excited to see the movie when comes to theaters this fall.
This post contains affiliate links, which means we receive a small portion of the sale if you make a purchase using these links.
This article was originally published on