Parents Surprise Students With Inspiring School Bathroom Makeover
by Jody Allard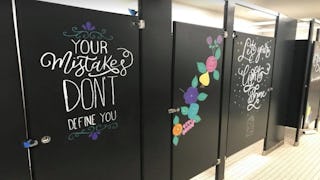 Image via Mary Moore Elementary
Parents at Mary Moore Elementary teamed up to inspire students in a surprising way
If you've set foot in an elementary school bathroom lately, "inspiring" probably isn't the word that comes to mind. But last weekend, a group of Texas parents decided to do something about that.
Related: 100+ Monday Motivation Quotes To Get Rid Of The Sunday Scaries
Over the weekend, they repainted the bathrooms at Mary Moore Elementary in Arlington with inspiring messages and artwork. When students returned to school on Monday, they were in for a surprise.
School administrators tell Scary Mommy, "A group of 5th grade moms started this idea a few weeks ago, as a way to encourage more positivity around the campus. These parents worked for 37 hours over the weekend! They sanded down the original surface, and painted everything black, to create a 'canvas' for the drawings."
Each of the bathrooms feature encouraging quotes to remind the boys and girls of the school that they're valuable and worthwhile. The entrance to the girls' bathroom proclaims "choose joy" and the entrance to the boys' bathroom reminds them that "you are enough."
Inside, the bathrooms continue the theme with painted stalls featuring encouraging messages to the school's students. A reminder of the value of kindness appears on one of the stalls in the girl's bathroom and the boys' bathroom showcases the quote "Every day is a chance to get better."
When boys in the school have a hard day, instead of stark walls and institutional paint, they'll be greeted with reminders of their potential.
"Our kids can always use an extra boost of happiness and joy," the school tells us. Since posting the pictures to Facebook, they've received so many positive reactions from parents, students and members of their community that they tell us they plan to "continue spreading these messages of kindness and encouragement in different ways throughout our campus."
As for the kids' reactions? "Our 5th graders didn't know they'd be coming back to this yesterday, and were shocked!" the school tells us. "They've definitely taken a sense of pride and ownership, and have had nothing but exciting things to say about it. They're all smiles for sure!"
These encouraging messages are particularly poignant in the week following the shooting at a school in Parkland, Fla., where 17 people were killed. As lawmakers push for teachers to carry guns to protect their students from shooters, the simple florals and inspiring messages stand in stark contrast to the horrifying prospect of teachers being asked to shoot someone during an active shooter situation.
Going to school can be difficult for some kids. Many of us probably remember our own fears and worries about school. Some of the comments on the school's post come from students who say they wish they had these reminders on their own hard days at school.
We can all use reminders at times that kindness matters and we are "enough." At Mary Moore Elementary, students will be greeted with positive messages every time they use the restroom. But they may not be the only ones. Many of the comments on the school's Facebook post come from parents and teachers at other schools who want to create their own bathroom murals too.
What began as one school's attempt to bring joy to their students has spread, and administrators are thrilled.
"It's been so exciting to see all the different teachers and administrators commenting on our Facebook post that they can't wait to start something similar in their schools," Mary Moore Elementary administrators tell us.
This article was originally published on