These Instagram Accounts Show The Diversity Of The Body Hair Movement
by A. Rochaun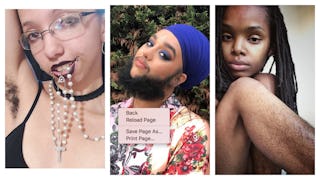 LEFT: lady.mari.lace/Instagram; CENTER: Harnaamkaur/Instagram; RIGHT: they.them.ryse/Instagram
When it comes to the body hair of women (and non-binary folks), it seems everyone's got an opinion. You don't have to get too far into a conversation about beauty standards before women's body hair comes up. Actually, it comes up when we talk about just about anything — wearing skirts/shorts, pre-sex prep, and even things to do before giving birth.
But more women than ever are rejecting archaic beauty standards and the societal pressure to remove body hair. They're doing it for all kinds of reasons. Some hate that shaving is another unnecessary expense. Others are tired of the frustration that comes with razor cuts or hair removal chemicals. And some are even motivated to accept body hair as a normal part of the human experience that shouldn't have accompanying shame.
Embracing body hair is much deeper than rejecting shaving or waxing — it's a commitment to loving yourself despite social norms.
Whether you're battling polycystic ovarian syndrome (PCOS) or a different hormonal condition, you're too busy to care, or just plain love the #bodyhairacceptance movement, we're celebrating your freedom to be fuzzy. Don't get us wrong. There nothing wrong with shaving, if that's what you want to do. But these Instagram accounts celebrate body hair in the most empowering ways.
Get Hairy February
Get Hairy February is a campaign based out of Australia that encourages women and femmes to take a month off from shaving in support of ending violence against women. Even if you aren't ready to nix shaving completely, a one month break for a worthy cause might be manageable.
bodyhairloveaffair
https://www.instagram.com/p/5tJcdzGWlt/?utm_source=ig_web_copy_link
Body Hair Love Affair's IG page is a visual extension of their blog, which gives folks a place to find solidarity and comfort surrounding shave-free life.
travisalabanza
https://www.instagram.com/p/Bma5_7oF05t/?utm_source=ig_web_copy_link
Self-described performer, writer, and theatre-maker Travis Alabanza embraces both the masculine and the feminine qualities in the world. They are a great example of body hair diversity for individuals who don't fit the gender binary.
quickieswithmickie
Mickie gives us so much more than body hair support. She also has a YouTube channel where she discuss sex, body acceptance, and challenging social norms. Check it out.
ihartericka
https://www.instagram.com/p/BY7CpcCHIzW/?utm_source=ig_web_copy_link
Ericka Hart is a breast cancer survivor, sex educator, and speaker who provides a platform for visions of queer Black womanhood. Talk about inspiring!
meimeimac
https://www.instagram.com/p/BVdaKKng9N0/?utm_source=ig_web_copy_link
Mei Mac is located in the UK, but exudes global vibes of awesomeness. She is an actress, aerialist, and singer who supports the freedom to grow (and color) your body hair.
Harnaamkaur
https://www.instagram.com/p/BipYTLunx-A/?utm_source=ig_web_copy_link
Chances are you've seen Harnaam around. This British-Sikh Beauty is challenging traditional concepts of femininity by embracing body hair related to PCOS one motivational speech at a time. And her IG is powerful AF too.
allykatswonderland
I love that Ally is comfortable displaying her body proudly. Size diversity is one of many things that makes the body hair movement so empowering.
Goddes_Pits
Goddess Pits has a kick-ass collection of bodies with body hair. Be careful though, a few are NSFW.
freethenatural
https://www.instagram.com/p/BlsWQPXhtbU/?utm_source=ig_web_copy_link
Free the natural is beautiful — and I'm not just saying that because of the body hair. I could scroll through her images all damn day.
AfricaBrooke
https://www.instagram.com/p/BmggLdfANcH/?utm_source=ig_web_copy_link
Body hair and baldness — it's a pretty cool mix. Africa Brooke's page shows us just how awesome the combination looks.
Bebeardiful_x
https://www.instagram.com/p/Bm5wzGShjyI/?utm_source=ig_web_copy_link
Bebeardiful_x is a proud plus-sized PCOS warrior. She's even been featured in Allure magazine. Pretty awesome and totally badass.
sushmasahahaha
https://www.instagram.com/p/BmL22DCACqr/?utm_source=ig_web_copy_link
In addition to body hair, Sushma's page gives images of her acting, singing, and living life to the fullest — all of them inspiring and relatable.
lady.mari.lace
https://www.instagram.com/p/BmmrU-WhLyJ/?utm_source=ig_web_copy_link
If you looking for an IG account that shows you how sexy you can be with body hair, this is the page. Who knows, you might even learn a few things.
they.them.ryse
Reesie is a social justice educator who discusses mental health, good vibes, and queerness. Oh, and they also sport some body hair.
bodyhairmovement
https://www.instagram.com/p/BZ6uzN1Dm-F/?utm_source=ig_web_copy_link
Nothing to see here, just a Polish chick advocating for body hair acceptance with great photos and bilingual captions.
liberate_your_soul__
https://www.instagram.com/p/BlBU_YbByM4/?utm_source=ig_web_copy_link
This IG is great if you're looking for a profile that advocates for holistic health topics like veganism, yoga, and self-love. Plus, Monica lives in Costa Rica so the images are absolutely beautiful.
thelastrealdreamer
https://www.instagram.com/p/BgEP41nnGzb/?utm_source=ig_web_copy_link
An IG doesn't have to be extravagant to have good content. If you wanna look at everyday images of yoga poses, nature, and cool shirts, this is the profile for you.
bodyposi.b
https://www.instagram.com/p/BjsIKg7naZx/?utm_source=ig_web_copy_link
Bianca is another plus-sized woman giving us all kinda sexy vibes. Add body hair support and what more could you ask for?
nudenora
https://www.instagram.com/p/BmpCG34A-Zt/?utm_source=ig_web_copy_link
Two words: Pink Pubes. What more could I possibly say?!