Instagram Is Telling People If You Screenshot Their Story
by Jerriann Sullivan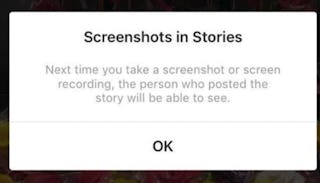 Image via Instagram
Instagram testing notifications for screenshots of stories
My fellow internet sleuths, our days could be numbered. In a new test, Instagram is telling people you've taken a screenshot of their story. The notifications are just an experiment at the moment, but soon our lurking could no longer be secret.
We found out about the feature when specific users were notified about it in the app and shared the news. If your account is included in the test and you take a screenshot of a story, you'll receive a notification that reads: "Next time you take a screenshot or screen recording, the person who posted the story will be able to see." A lovely soul took a screenshot of the notification and shared it online, which you can see below.
Instagram told TechCrunch they were running the new screenshot notification experiment but didn't give any details about how long the test is running, how many users are being targeted, or how many more days we have to creep on people's accounts without being told on. "We are always testing ways to improve the experience on Instagram and make it easier to share any moment with the people who matter to you," the company said.
I'm not sure why this level of transparency is needed. But I'm also old and forget things all the time, so my screenshots of stories are of boring things like books to read and recipes to try. But taking a screenshot of someone's picture, story, or video and texting it to your friend is also a fabulous way to gossip in the internet age.
Prior to the new test, folks were only notified when a screenshot was taken of a private direct message. If Instagram rolls out the new feature, we'll be able to see who took a screenshot of our story by clicking on an icon (people said it looks like a camera shutter) that appears on the story itself. Another kind soul took a screenshot of what that looks like and shared it (see below).
The alert wouldn't show up in the main notifications area, and users would have to take a few steps to get to it. So, if you were feeling risky you could keep taking those screenshots and just hope people didn't find the time to see who their lurkers were that day.
Many folks on the interwebs noted that the new notification is pretty much the same thing Snapchat does so it wouldn't be a huge surprise to people who use both social media sites. But still, who asked for this nonsense? Let us lurk in peace. There is hope: if people stop watching stories because they can't creep on others, Instagram could cancel the new notifications before they even roll it out to everyone.