4-Year-Old Instagram Star's Stolen Photos Ignite Debate About Parents' Online Sharing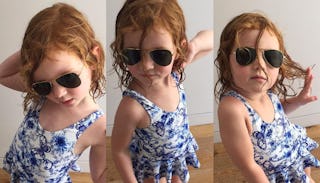 4-year-old Instagram personality Pixie Curtis is now the star of a debate about online privacy.
When it comes to sharing photos of our kids, the internet is a brave, new world. We each have differing opinions on what to post, what to hold back, and whether we should share anything at all. You might not recognize the name Pixie Curtis, but she's a four-year-old Australian Instagram "star," and she's at the center of an intense debate about online privacy for kids after her image was Photoshopped into several explicit photographs.
According to the Daily Mail, Pixie boasts over 100,000 Instagram followers, as well as a booming hair bow business and several lucrative modeling contracts. She's a full-fledged social media mogul, thanks to her mom, PR specialist and former The Celebrity Apprentice star Roxy Jacenko, but yesterday, news broke that some of her photos had been doctored to look like porn.
The doctored photos — which include Pixie's face superimposed onto the body of a naked prostitute, and another in which she appears to be reading a book with two men having sex on the cover — are being investigated as a crime, but that hasn't stopped critics from saying Pixie and her mom were essentially "asking for it" by making their lives so public.
In a discussion on the Daily Mail's Facebook page, hundreds of readers took Jacenko to task for "exploiting" her daughter online and putting her at risk. Said a few:
"That's what you get for plastering your child all over the Internet dummy, I'd bet a large number of her Instagram followers are perverts."
"This is what happens when these narcissistic ding bats exploit their children. They don't care about the children's welfare as long as the attention the child is getting reflects on them."
"Little sympathy, spend less time posting her photos on Instagram and more time reading to her."
"What do you expect when you exploit your child on social media… Stupid mother should be protecting her child not whoring her image."
Pixie's Instagram account has since been made private, and her mom even made an appearance on the Kyle and Jackie O radio show to denounce the photo thieves as "fucked in the head," but that's done little to stem the tidal wave of outrage from people who think she put her daughter in harm's way. Looking at it logically, it's not difficult to see where that anger comes from. Parents who make their kids social media famous are basically the new stage moms. Instagram is their version of beauty pageants, except more public and — in this case — much more profitable, and it's weird to watch these preschoolers court legions of adoring fans.
Still, no one deserves to have this happen. Jacenko's stage mom tendencies might make us uncomfortable, but that doesn't mean her children should have their photos stolen, their faces plastered onto adult bodies in compromising positions, or have those photos circulated online by sickos who get off on harassing women and children, or worse.
We're all still figuring out the implications of sharing our lives online, but the bottom line is social media exists and parents are going to use it. Telling people they deserve to have their kids photoshopped into sexually explicit images just because they posted them online is tantamount to saying someone deserves to be groped for wearing a short skirt, or mugged because they were walking outside at night. It's victim-blaming, pure and simple, and it does nothing to benefit kids or their privacy.
Eliminating kids' photos from the web won't solve the problem of asshole sickos. At the end of the day, it doesn't matter if we agree with Roxy Jacenko's choices or not — we should still be able to agree that what happened to her daughter is disgusting, and only the perpetrators are to blame. Sharing photos of kids online is not a crime, but stealing photos of children and using them to make pornographic images sure as hell should be.