Instant Film Cameras Are Back, And We Are Obsessed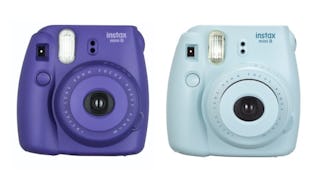 I seriously can't get enough of these. I bought one for my daughter for Christmas, and now we fight over it, so I should probably just order another. These are so much fun.
Also, if you're anything like me, you have the best intentions of printing out your Instagram feed, but never quite make it there. You really want to turn all of your iPhone photography into cute collages or hang them on an old clothesline with rustic clothespins, but then you get tired, and you can't find your coffee, and then the baby wakes up from their nap.
These Fujifilm Instax Minis can save the day. Whether it is just a quick candid moment, or something to pass around at a birthday party or family gathering, it instantly develops your picture to stick on the fridge or send home with a partygoer. Plus, they don't cost a damn fortune.
You can pick your favorite color (black, blue, pink, white, yellow, grape, or raspberry) and grab some film, and you're ready to go.
This isn't as affordable or easy as whipping out our smartphones, of course — so I am sometimes a little stingy about using the film sheets — but the photos have become something I will keep on my fridge forever. (Let's be honest: I'm never going to hang up that clothesline.)
If you're really serious, or giving as a gift, you can snag a case too.
This article was originally published on