Instant Pot Just Made A Blender That Can Cook Things
by Julie Scagell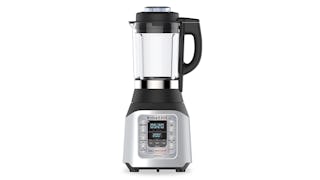 Image via Walmart
Instant Pot Ace Blender is going to be on everyone's holiday wish list this year
Instant Pot, the kitchen item on everyone's must-have list, has a new product hitting the market and it's getting their cult-like followers ready to shout from the rooftops all over again. Folks, here's a blender that cooks your food while it blends. I know — sit down and breathe for a minute. It's a lot to take in.
The Instant Pot Ace Multi-Use Cooking and Beverage Blender hit the market this week exclusively at Walmart, promising cooking enthusiasts the ability to both cook and blend food into soups, juices, sauces, and all sorts of other things.
I'm sure you're thinking, "OK, this isn't the first blender that cooks your food. Vitamix has been doing this for years," and, of course, you'd be right. But get ready for the good news — these puppies are selling for $99 — saving hundreds over the competition.
Essentially, recipes that involve both cooking and blending, can now be done in one appliance versus two or more. a combination of tasks which traditionally requires using at least two kitchen appliances and multiple pots/bowls which makes cooking and clean-up a breeze.
Also, you can sell your immersion blenders, ice cream makers, and juicers, making a whole lot more room in your kitchen.
The Instant Pot Ace Blender comes with four pre-set blending programs (smoothies, ice cream, nut/oat milk, and crushed ice) and four hot blending programs (puree, soup, soy milk, and rice milk), along with three blending speeds. According to Digital Trends, Instant Brands, the company that created the Instant Pot, says "the blender is based on some of the same microprocessor technology used in its popular electronic pressure cookers." Instant Brands says the blender consumes 700 watts of power when blending and 600 watts for heating.
The Ace blender has a similar dual-digital display that shows cooking time and temperatures similarly to the beloved Instant Pot, so you will be kept abreast of all the lovely magic happening inside while you cross the other 500 items off your to-do list. It's a win-win for everyone.
The blender's 60-ounce glass pitcher holds a concealed heating element allowing it to withstand extreme temperature changes, all dropping in time with the falling temperatures and making every soup lover's dreams come true.
In addition to the blender, it also comes with a food tamper to get all those chunky items way, way down to the blades, a 5-ounce plastic measuring cup, a brush for cleaning all the bits and bobs out of the blades, and a cheesecloth bag which is also washer safe. Did I mention this thing is only $99?
Bless you, Instant Pot.
This article was originally published on