PSA: I Have Found Your Instant Pot's Perfect Companion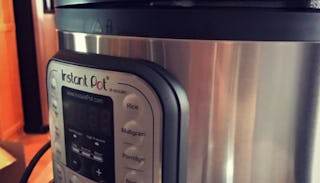 pbrr / Instagram
I've already publicly confessed my undying love and devotion for the Instant Pot because I care about you all, and I truly feel like every busy parent across the country who forgets to thaw out the chicken or roast every damn day should have one on their kitchen counter.
Now I need to publicly confess my love for my Instant Pot companion, The Aroma Housewares Digital Rice Cooker. Listen to me: This is not your average rice cooker. It's worth the extra 10 bucks. This little vessel will cook perfect rice every damn time, and it will not dry out during the "keep warm" time. My kids will literally scoop the leftover rice from this thing with their grubby little hands because they love it so much. (I might also do this.)
You can also use the steamer tray attachment so that you can steam veggies (LOL forever, I know) while the rice cooks.
If you pair this with your Instant Pot, you can have a complete meal ready in no time, with virtually no effort and minimal cleanup. I am basically handing you the secret to life here, people.
I usually throw some chicken into the Instant Pot, then make rice and steamed broccoli or carrots in this bad boy while we complete homework pages or do a quick toy pickup. I keep it simple during the week, but you can get as creative as you'd like.
So basically, The Aroma Housewares Rice Cooker is the Instant Pot's soulmate. You need them side by side in your kitchen. You will thank me, I promise.
Editors may receive samples and/or a share from purchases made via links on this page.
This article was originally published on