18 Things That Every Introvert Needs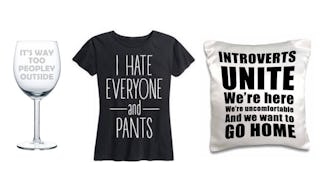 Image via Walmart
Every introvert knows that this is the time of year to celebrate with loved ones, but most of us would still rather stay home.
All any introvert really wants for the holidays is some alone time. And as an introverted parent, those moments are few and far between. So in addition to some much-needed personal space to recharge, here's a list of 18 things that every introvert needs in their life:
This Introvert Wine Glass is perfect for any introvert whose favorite thing is to curl up with some wine and their book (or phone), away from everyone else. (This is the 10 oz. size, but it also comes in a 20 oz. "jumbo" or 17 oz. stemless version.)
The It's A Beautiful Day To Leave Me Alone Shirt is an adorable gift for anyone who might be too shy to tell people they want to be left alone. But they do. They really, really do.
These Introvert Prints are great for people who genuinely don't like people. Now they can hang these in their home so everyone knows it.
The I Made It Awkward Coffee Mug is the perfect gift for any introvert. It also happens to be what I want to be written on my tombstone.
This Anti-Social Butterfly Longsleeve Shirt is perfect for those winter months when introverts finally have an excuse to stay indoors most of the time.
This Hermits Unite Apron is a great gift for any introvert who loves to cook at home, rather than venture out into the world. Another great gift idea for this person? A grocery gift card to a place that delivers.
An Introvert Vinyl Decal is a great gift that you can afford to get for all your favorite introverts, because it's only $5.49.
This More Cats Shirt is ideal for any introvert who is overwhelmed by people but adores cats.
This Introverts Unite Travel Mug is great for taking coffee or tea on the road which, as a mom, is some of the only alone time I get.
The Introverts Pillow Case pretty much sums up how every introvert feels at parties. Maybe every home should have one so we can clutch it in case of small-talk induced panic attacks.
This I'm Introverting Coffee Mug says it all, except for the "and don't come back" part.
This Don't Talk To Me Shirt says it so you don't have to. And with any luck, people will actually leave you alone, the way you like it.
The Introvert Doodles Book is full of comics that will make introverts feel less alone in their quest to be left alone.
The I Need My Space Coffee Mug is another great mug for introverts who love their personal space. Perfect for sipping when close-talking coworkers come around.
This I Hate Everyone and Pants Shirt is basically my life slogan in wearable form.
A Go Away Doormat is a great gift for any introvert to use (indoors or outdoors) to try to warn people to stay away. I'll take a dozen, please.
This Men's Socially Awkward Shirt will let that special dude in your life know that you love him, social awkwardness and all. You're two awkward weirdos in love.
This Namaste Pillow Case is perfect for anyone who loves yoga or loves avoiding yoga. I have my own version of downward dog, where I curl up on my bed… okay, it's a nap. I love to nap.
Any of these gifts are great for the introverts in your life. These, and promising not to make us talk on the phone or check our voicemail anymore. It's 2018, just text us like normal people.
We are a participant in the Walmart.com Affiliate Program and may earn fees by linking to Walmart.com and affiliated sites.
This article was originally published on