Inventor Of Green Bean Casserole Dies At 92 -- And She Was A Total Boss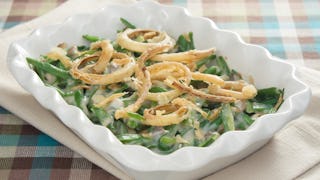 Image via Getty/DreamBigPhotos
Her green bean casserole recipe card now sits in the National Inventors Hall of Fame
There isn't a Thanksgiving Day table in America that hasn't been adorned with a 9×13 Pyrex dish of green bean casserole at one time or another. And we have Dorcas Reilly to thank for that — she's the inventor of the iconic recipe and hundreds of others, and she just died at the ripe old age of 92.
Perhaps the vegetables in the casserole do count for something?
What makes this story so noteworthy is that green bean casserole — in all its cream of mushroom, fried onion glory — is Campbell's most popular recipe since Campbell's became a corporate brand in the 1930s. Reilly herself was a Campbell Soup kitchen supervisor in 1955 when she slapped together the beloved ingredients and created an American holiday classic.
Though the cherry on top of this story (or fried onion, rather) is that Reilly literally didn't even remember creating it. When she was interviewed by the AP in 2005, marking her dish's 50th anniversary, she said she couldn't recall having a hand in creating it because it was just one "among hundreds" of dishes she created during her time at Campbell's.
Told you Reilly was a total boss.
"Dorcas was an incredible woman, whose legacy will live on for years to come," Campbell's says in a statement, per ABC News. "She will be missed by her Campbell colleagues and all those who were impacted by her creativity and generous spirit."
According to Campbells.com, Reilly was one of the first full-time members of Campbell's Home Economics Department, where she created what they call the "mother of all comfort foods." And they're not wrong — no matter how stuffed we all are, the holiday meal isn't complete until you've slapped a heaping spoonful of green bean casserole on your plate. The recipe is a fixture in American culture, whether you love it or hate it.
When news of her death spread across social media, many people felt compelled to share their love for the dish.
According to Campbell's website, Reilly left the company in 1961 to become a full-time mom to her kids but returned in 1981 to manage Campbell's Kitchen. The company donated her original green bean casserole recipe card to the National Inventor's Hall of Fame.