The Trailer For 'The Invisible Man' Is Here And Twitter Is Loving Elisabeth Moss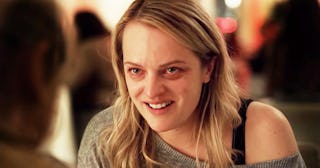 Universal Pictures/Youtube
Breaking free from the walls of Gilead and ditching her red cloak from The Handmaid's Tale, the brilliant Elisabeth Moss is playing yet another character that fuels our adrenaline and leaves us women feeling more than empowered in The Invisible Man from Universal Studios.
Praise be.
Much like we've seen with Offred on The Handmaid's Tale, Moss's character, Cecilia Kass, perfects the role of a distressed, emotionally exhausted and determined warrior all too well. As typical, her wrath is warranted. But unlike what we witness from the roles she usually plays, the identity of her monster, although assumed, is unseen.
Based off of the H.G. Wells' horror novel, and rebooted from the 1933 film, The Invisible Man closely follows abusive husband Adrian (Oliver Jackson-Cohen) — who is also wealthy scientist and inventor — shortly before and following his death by suicide.
Prior to his suicide, and with the help of friends and family, we see Cecilia fleeing her home with the help of her sister (Harriet Dyer). But Adrian catches her, breaks the vehicle's window, and tries to pull her out of a moving car and onto the gravel road with him (ya know… shown in the way only the best thriller movies can do).
After writing a goodbye letter oozing with guilt about Cecilia's abrupt departure (cue the definition of a sociopath), Adrian dies by suicide. And with the news of his passing, also comes the added information that Cecilia has been left millions of dollars in his will. But there is one contingency on the inheritance — she must prove herself to be mentally stable in order to receive the money.
Celicia's take on all of it? It's a hoax, because "Adrian wouldn't kill himself."
But when claiming to feel a hot breath on the back of her neck where no one stands, or knocked to the ground by someone who isn't there (or worse, that her husband who has turned to ash and sitting inside of a box is actually alive), those in Cecilia's life begin to seriously question whether she is toeing the line of insanity.
"The image of the Invisible Man in the floating trench coat and the floating sunglasses is one that is clearly etched into the public consciousness," Leigh Whannell, filmmaker and writer of The Invisible Man, tells Entertainment Weekly. "I wanted to kind of get away from that and make something that was really modern, really grounded, or as grounded as you can be when you're dealing with a film called The Invisible Man."
From the trailer alone, we get to see that same "Offred fury" in Moss' eyes that we dearly miss from The Handmaid's Tale. But unlike when Moss is playing a character cloaked in red, this time she's on the hunt to prevail against an abusive maniac whose every move is hidden.
"Elisabeth Moss is the centerpiece of the film, and she's in pretty much every scene," Whannell adds. "I feel like, if you're going to hang an entire film on someone's shoulders, you need an actor as good as Lizzie."
We agree, and we can't wait to see more when it hits theaters in February 2020.
This article was originally published on