12-Year-Old Aims And Fires Gun At Teacher's Face, But It Fails To Fire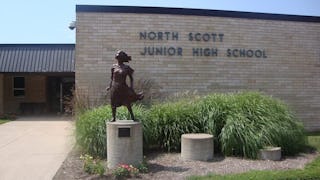 Image via North Scott Junior High School / Facebook
Court documents say 12-year-old student's gun failed to fire, preventing a school shooting in Iowa
A 12-year-old Iowa boy is entering court proceedings for allegedly bringing a loaded handgun to school with plans to shoot his teacher.
Court documents today alleged the boy, who isn't being named in media reports because of his age, brought the Smith and Wesson handgun to North Scott Junior High School in Eldridge, Iowa, pulled it out in class, ordered his classmates to get on the floor, pointed the gun at his teacher's face and pulled the trigger. The safety on the gun was on, investigators say, and that was allegedly all that prevented this incident from becoming yet another school shooting.
When the gun didn't fire, the teacher was able to wrestle it away from the boy with the help of another school staff member. She's now rightfully being hailed a hero.
The boy has been charged with felony attempted murder, and police have not revealed what his motive was for wanting to shoot his teacher. They also haven't said if any students were also targets. The boy will remain in police custody for at least another week, even though his lawyers have argued for his release by saying all other guns have been removed from his family's home. Yep, there were other guns.
We're so lucky this didn't become yet another tragic shooting, but it still raises the same important question we ask after every school shooting that does occur: Why is it so horrifyingly easy for children to get their hands on firearms? Even though we don't know exactly how this boy obtained the gun he took to school with him, estimates say Americans own almost 400 million civilian guns — more than one for every person who lives in this country. When weapons are that common, it's no wonder they keep falling into the wrong (and very young) hands.
Today, we can all be thankful that the headlines don't tell us about yet another massacre in what should be a safe place for kids. But that doesn't mean we get a break from working to make schools safe from shootings. It's time for common sense gun reform.
This article was originally published on