75,000 College Football Fans Wave To Children In Nearby Hospital Every Game
by Christina Marfice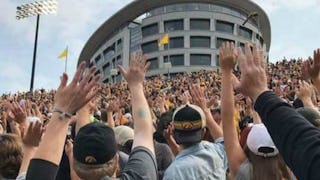 Image via Matt / Twitter
The University of Iowa's new football game tradition is a heartwarming gesture for sick kids
College football is already a sport that's steeped in tradition. But the University of Iowa and its Hawkeyes football fans just debuted a new tradition that may be the most heartwarming of them all.
During the team's season opener on Saturday, the entire crowd stood and turned in the stands to wave hello to children watching them from the neighboring University of Iowa Stead Family Children's Hospital, located across the street from the stadium. The kids at the hospital, who were gathered on the top floor of the building, waved back.
Iowa's Kinnick Stadium had a sold-out crowd at Saturday's game, where the new tradition was unveiled at the end of the first quarter. Fans there are calling it "the wave," a nod to the kind of cheer that's popular at sporting events. The move went viral pretty quickly, even making ESPN's Sports Center over the weekend.
According to the Washington Post, the idea originated on the Hawkeye Heaven Facebook page, with its admin, Levi Thompson.
"I wanted it to be something the fans could accomplish without getting the university or any kind of money backing it," he told Hawkeye Nation. "That's when we thought about waving to the hospital after the end of the first quarter would be the perfect thing."
Fans all over social media shared photos and videos of the heartwarming new tradition.
And the mom of one of the kids at the hospital posted a video to Facebook of her daughter returning the fans' wave.
The Iowa football team and the hospital have had a partnership for years — since 2009, one current or former patient has been named "kid captain" at each game, invited to stand on the sidelines with the team and given a special jersey. And through the "Touchdowns For Kids" initiative, Iowa fans are encouraged to pledge donations for every touchdown the team scored. The initiative raised $42,000 for the hospital during last year's season.
According to Thompson, the plan has always been to have fans wave to the kids at the end of the first quarter of every home game. After a very successful first wave, we're sure this tradition is here to stay.
This article was originally published on