Iowa Lawmakers Approve The Most Restrictive Abortion Bill In The US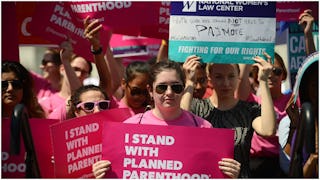 Image via Astrid Riecken/Getty
Iowa lawmakers want to ban abortion at fetal heartbeat
Today in despicable news, Iowa lawmakers wrote a bill that would ban abortion at fetal heartbeat. That means about six weeks into pregnancy — before some women even know they're pregnant. This is the most restrictive abortion bill in the United States, and it really sounds like these lawmakers need to be sat down and reminded about the whole, very basic "our body, our choice" thing.
Republican legislators drafted the bill, which is currently sitting on the desk of GOP Gov. Kim Reynolds for approval. Reynolds hasn't said whether or not she'll give her signature, but she did say, per The Associated Press: "I'm pro-life. I'm proud to be pro-life. I've made that very clear." So, yeah. It sounds like we might already have our answer.
A few other important notes about this bill. The lawmakers make an exception for cases of rape and incest, but only if the woman reported the rape within 45 days, and the incest within 140 days. So thoughtful of these lawmakers to create a timeline for how soon a woman needs to deal with a completely traumatic incident in her life.
There's a good chance that this case will be brought to the Supreme Court — which is actually exactly what these Republican legislators are gunning for. "We created an opportunity to take a run at Roe v. Wade – 100 percent," Republican state Senator Rick Bertrand told Reuters. He hopes that the bill will be "thrust into the court," where conservative Justice Neil Gorsuch presides and Republicans are in the majority.
Meanwhile, pro-choice activists are speaking out loudly against this bill, and reminding lawmakers — once again — that women have the right to make decisions about their bodies and their future.
"This bill is one more example of state politicians, emboldened by the Trump-Pence administration, carrying out policy after policy that strip away people's freedoms and access to care," Dawn Laguens, executive vice president of Planned Parenthood, said in a statement. "The right to control your body includes the right to access safe, legal abortion. Your body is your own, if it is not, we cannot be truly free or equal."
So, how much do we need to worry about this bill and the future of Roe v. Wade? You can take comfort in knowing that the court turned down similar heartbeat bills from North Dakota and Arkansas, and declared them unconstitutional. Here's hoping this bill gets shut down quickly as well, and lawmakers finally stick their noses out of our uteruses.