Baby Kept From Life-Saving Surgery Due To Travel Ban Will Be Allowed Entry Into US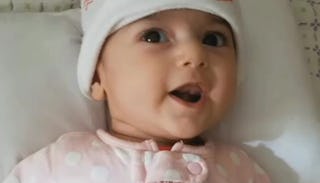 Image via KPTV
She could be in the U.S. as early as next week
The Iranian baby denied entry into the United States because of President Trump's travel ban may soon get the critical medical care she needs. Four-month old Fatemah Reshad and her family have received the green light to enter the country for the child's life-saving surgery.
Fatemah's family is being allowed into the country thanks to New York State Governor Andrew Cuomo. NY Daily News reports that Cuomo was touched by the baby's plight and helped obtain a waiver for her family to enter the U.S. The governor secured pro bono legal assistance and a promise from doctors at Mount Sinai to perform her surgery for free.
Cuomo says, "We will continue to work with the International Refugee Assistance Project to ensure this baby receives the treatment she needs, and fight for those being unfairly shut out of America's gates by this policy."
Word of the federal waiver for Fatemah and her family came just hours before the Department of Homeland Security announced today that it's suspending Trump's travel ban, as reported by CNN.
This means that DHS will inspect travelers coming into the country the same way it did prior to the executive order, which banned Syrian refugees indefinitely, all other refugees for 120 days, and citizens of seven predominantly Muslim countries from entering the US for 90 days. Those countries included: Yemen, Syria, Sudan, Somalia, Libya, Iraq, and Iran; where again, little Fatemah is from.
This is all good news for Fatemah and her family, who were originally scheduled to meet with doctors in Portland, Oregon this Sunday, but were barred from making the trip due to Trump's ban. They had done all of the research and paperwork for their visas only to find out upon arriving in Dubai to complete their tourist visas that they wouldn't be allowed to enter the U.S.
NY Daily News reports that according to her medical records, Fatemah has structural abnormalities and two holes in her heart. The baby's uncle, Sam Taghizadeh, who's a U.S. citizen, told KPTV that Fatemah needed the surgery "as soon as possible," noting that the lower quality of medical services in Iran would make the procedure dangerous for the infant.
Attorney Amber Murray, who assisted the family in obtaining the waiver, explains how dire Fatemah's situation is. "Her heart is twisted. Her heart's working overtime to compensate … and it's causing more and more damage to her every day that she doesn't have the surgery."
Cuomo says in a statement, "I am pleased to announce that the world-renowned pediatric cardiac surgical team at Mount Sinai Hospital, who has extensive experience in managing patients with this condition, has generously offered to provide the surgery and medical care at no cost to the family."
For now, it's not clear if the family plans to take Governor Cuomo up on his offer or if they'll go to Oregon as previously planned.
The details of travel arrangements are supposedly being worked out, but baby Fatemah and her family are expected to be in the U.S. early next week.
Here's hoping Fatemah quickly receives the treatment she needs to get better.