Ireland Votes To Overturn Its Abortion Ban
by Valerie Williams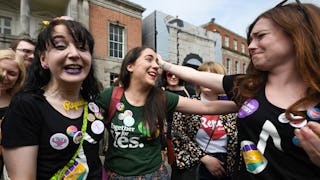 Image via Jeff J Mitchell/Getty Images
In landslide vote, Ireland votes to overturn Amendment 8
After an historic vote and in what appears to be a landslide victory, Ireland has moved to overturn its 35-year ban on abortions, one of the most restrictive abortion laws in the developed world.
The vote, the first in 35 years, was to decide whether the country would repeal Amendment 8, which outlawed abortions in the country for any reason including cases of rape, incest, fetal abnormality, and life-threatening danger to the mother. According to The Washington Post, the early count of votes reflects previous exit polls suggesting the ban would be overturned easily. Ballots counted from 21 of 40 constituencies show that 67 percent voted to overturn and 33 percent voted to keep the ban in place.
The amendment, made law in 1983, was intended to give equal rights to both mothers and the unborn, but clearly, forcing a woman to carry through with a pregnancy isn't giving her any rights at all. Prime Minister Leo Varadkar recognizes that it's been a long time coming. "What we have seen today is a culmination of a quiet revolution that has been taking place in Ireland for the past 10 or 20 years," he says.
Voter turnout was a record-breaking 65 percent, the highest ever for any referendum vote — which shows how truly important this issue is to the Irish people. Irish citizens even flew home from far-flung locales in order to have their vote to repeal counted.
Parliament is expected to quickly pass a law guaranteeing unrestricted abortion access up to 12 weeks gestation, and after that point, it would be allowed in cases of fatal fetal abnormalities or serious risks to a mother's health. Varadkar says the new law will be in place by year's end. "The people knew what we had in mind, and I don't think it would be right to depart from that at all."
Since news of the vote result came out, Twitter is alight with reactions from Irish citizens thrilled to see a woman's right to choose being recognized and put into law.
This tweet perhaps sums it up best.
This article was originally published on