Baby Names We Love, Inspired By St. Patrick's Day
by Rita Templeton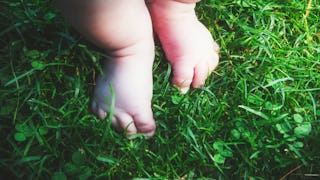 Ashley L Duffus/Getty
With its rich history, gorgeous landscape, and gregarious people, Ireland is a travel destination on many a bucket list — and a great inspiration for naming your baby.
Whether you're looking for ainmneacha cailíní (girl names), ainmneacha buachaillí (boy names), or something suitable for either, check out this list of baby names inspired by notable Irish people, places, and symbols that can show your love for the Emerald Isle.
In Irish mythology, The Morrigan — which translates to "phantom queen," for quite possibly the most awesome name meaning ever — was a shape-shifting goddess looked over the rivers and lakes, and was associated with both life and death.
While we're on the topic of interesting name meanings, let's talk about Maeve, which means "she who intoxicates." In Irish myth, Maeve (originally spelled Meadhbh) was the name of a warrior queen of Connacht.
Famed poet and playwright Oscar Wilde was from Ireland, and though the name Oscar may not exactly scream "Irish," his full name — Oscar Fingal O'Flahertie Wills Wilde — definitely leans a little more in the Gaelic-sounding direction. But if Oscar's not your cup of tea, how about another famous Irish literary genius?
While Beckett itself isn't an Irish name, it's definitely tied to a well-known Irishman: novelist, playwright, and poet Samuel Beckett. And considering that this name is trending steadily upward (from #753 on the SSA Baby Name Popularity List in 2006 to #226 at last count), it's a strong choice with both Irish and literary ties.
This name is literally how to say "Ireland" in Irish: ae-ra. But since the vast majority of people won't know this, it's a subtle tribute. However, if you want to make a more obvious statement, there's always …
… the option to just say it in English. Ireland. Actors Kim Basinger and Alec Baldwin chose this name for their daughter in 1995, putting it in the spotlight and touching off a wee bit of a trend.
Of course, you can give your child an Irish place name without naming him or her after the entire country. How about getting more specific with a unisex name like Kerry (it's Ciarraí in Irish Gaelic), which is the name of an Irish county? Or you could go with another Irish county name …
As a name, Clare is derived from the Latin name Clara, which means "radiant" or "bright." But according to legend, County Clare's name originated with the Irish word clár, which translates to "board" or "plank" — apparently someone in history made a plank bridge across the river Fergus, leading to the settlement that is County Clare today.
In 1990, progressive Ireland elected its first female President: Mary Robinson (a.k.a. Máire Róibín in Irish). She was very popular among the people, regarded as a transformative figure for the nation, a promoter of human rights, and protector of marginalized groups. A beautiful Irish name and a tribute to strong women? Yes!
In some cases, Irish surnames also make fabulous given names. The unisex name Quinn (the Anglicized version of Ó Cuinn) is a great example of this, meaning "descendant of a chief." But it isn't the only name that fits into this category …
Pronounced "shay," this is another example of a surname-turned-unisex-name. It's the Anglicized version of Ó Séaghdha, and means "esteemed descendant."
This Irish surname (derived from Nuallán) means "champion." And with a meaning like that, you can probably expect a little gloating if he wins anything at all during family game night.
Okay, so if you're heavily into name meanings, you may want to skip over this one; it's a surname as well, derived from the Irish word braon, meaning "sorrow" (see a list of other names with iffy meanings here). Although some sources say it means "raindrop," which actually makes total sense, seeing as some parts of Ireland have as many as 225 rainy days per year.
There's a good reason that Ireland is known as "the Emerald Isle" — all that rain makes for unbelievably lush, green topography, from rolling hills to rippling plains. Plus, gem names are on the up and up, so this makes a quite contemporary choice.
Also known as a "triquetra," or a "Celtic triangle," the Trinity knot is one of the oldest and most recognizable symbols of Celtic culture. In pagan times its three points were said to symbolize either earth, sea, and sky or Mother, Maiden, and Crone (the neopagan Triple Goddess); later, the Christian church adopted it as a symbol of the Father, the Son, and the Holy Spirit. But no matter your religious persuasion — or lack thereof — the Trinity knot is still intertwined (pun totally intended) with Irish culture, and Trinity is a beautiful name.
Need more inspiration and access to thousands of names and meanings? Check out the Scary Mommy Baby Name Database!
This article was originally published on