Isaiah Washington Claims Ellen Pompeo Boyfriend Drama Kept Him From McDreamy Role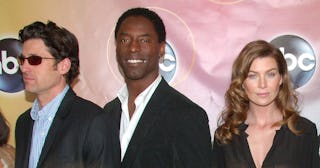 Michael Loccisano/Getty
Yet another Grey's Anatomy star is spilling tea about all the drama on the show's set, and this time, Isaiah Washington is coming for star Ellen Pompeo
This week, former Gery's Anatomy star Katherine Heigl spoke out once again about the drama that's always surrounding the show — including intense working conditions and the way she was blacklisted from the industry for speaking out about them. And then guest star Denzel Washington joined the party with his own strange story about drama on set. But it appears there's still more Grey's tea to spill — Isaiah Washington just stepped up with his own secrets, and he's apparently also ready to talk about the long-running medical drama.
Isaiah Washington, who played Dr. Preston Burke on the show's first handful of seasons, revealed that he actually auditioned to play McDreamy. In How to Save a Life: The Inside Story of Grey's Anatomy, Washington shared that Shonda Rhimes's original vision for Meredith's love interest was "a brain surgeon who looked like Dr. Ben Carson."
But according to Washington, it was ultimately Ellen Pompeo who didn't want him to land that role.
"There's a rumor out there or something that Ellen didn't want me to be her love interest because she had a Black boyfriend. The context is that she's not into white men," Washington said. "I guess she implied that her boyfriend may have had a problem with her doing love scenes with me, so she felt uncomfortable."
Pompeo seemed to confirm that story when she said she didn't think producers would "put an interracial couple on the show," adding that it was "too close to home" for her. And while this tea is a little confusing, it might be a good idea to take it with a grain of salt, considering the source — Isaiah Washington was fired from the show in 2007 after he used a homophobic slur during a physical altercation with other people on the set. Meanwhile, I'll just be over here waiting for #JusticeForKatherineHeigl because she was basically canceled after being labeled high-maintenance and difficult to work with because she spoke out about all the crap happening over at Grey's.
But that's a little beside the point. It almost seems like the former stars of the show are competing to see who can spill the hottest tea, and we're anxious to see what comes out next. Patrick Dempsey, lookin' at you!