Italian Doctor Fighting The Outbreak Begs People To Take Coronavirus Seriously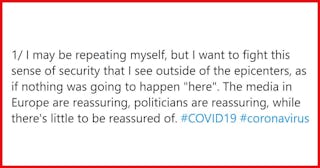 Silvia Stringhini/Twitter
A doctor from the coronavirus front lines in Italy has a chilling message for people in other countries
Dr. Daniele Macchini, who works at the Humanitas Gavazzeni hospital in the northern Italian city of Bergamo, has been on the front lines of one of the worst coronavirus outbreaks in the world so far. Italy is now on complete lockdown — the entire country — as deaths from the virus reach triple digits. It's continuing to spread in other parts of the world, too, including the U.S., and Macchini has a chilling message for places where case numbers are just beginning to climb.
"This is the English translation of a post of another ICU physician in Bergamo, Dr. Daniele Macchini. Read until the end," wrote Silvia Stringhini, an Italian epidemiologist also working in the coronavirus epicenter, on Twitter. "After much thought about whether and what to write about what is happening to us, I felt that silence was not responsible. I will therefore try to convey to people far from our reality what we are living in Bergamo in these days of Covid-19 pandemic. I understand the need not to create panic, but when the message of the dangerousness of what is happening does not reach people I shudder."
Macchini continued, "I still remember my night call a week ago when I was waiting for the results of a swab. When I think about it, my anxiety over one possible case seems almost ridiculous and unjustified, now that I've seen what's happening. Well, the situation now is dramatic to say the least. The war has literally exploded and battles are uninterrupted day and night. But now that need for beds has arrived in all its drama. One after the other the departments that had been emptied fill up at an impressive pace."
Macchini went on to describe scenes from a hospital where coronavirus patients are treated.
And he begged people to stop comparing coronavirus to the flu, writing, "Now, explain to me which flu virus causes such a rapid drama… And while there are still people who boast of not being afraid by ignoring directions, protesting because their normal routine is 'temporarily' put in crisis, the epidemiological disaster is taking place. And there are no more surgeons, urologists, orthopedists, we are only doctors who suddenly become part of a single team to face this tsunami that has overwhelmed us."
Macchini described the severity of the coronavirus symptoms that he's seen in patients who have overwhelmed his hospital, writing, "Someone already to be intubated and go to intensive care. For others it's too late… Every ventilator becomes like gold: those in operating theatres that have now suspended their non-urgent activity become intensive care places that did not exist before. The staff is exhausted. I saw the tiredness on faces that didn't know what it was despite the already exhausting workloads they had. I saw a solidarity of all of us, who never failed to go to our internist colleagues to ask 'what can I do for you now?'"
"Doctors who move beds and transfer patients, who administer therapies instead of nurses. Nurses with tears in their eyes because we can't save everyone, and the vital parameters of several patients at the same time reveal an already marked destiny. There are no more shifts, no more hours. Social life is suspended for us. We no longer see our families for fear of infecting them. Some of us have already become infected despite the protocols."
And Macchini mentions the healthcare professionals who have been infected with the coronavirus, too. He ended the post with a plea to people to respect quarantines and stay home for the sake of the vulnerable people who could be infected.
According to the CDC, people should not panic about coronavirus and COVID-19, regardless of what this Twitter thread says. You can best help prevent the spread of the virus by practicing basic hygiene — wash your hands regularly for at least 20 seconds with soap and hot water, and avoid touching your face whenever possible. People should also know the signs and symptoms of the illness — fever, coughing, and shortness of breath — and contact a healthcare provider immediately if they show those symptoms.
This article was originally published on