Italy Expands Coronavirus Lockdown To Include Entire Country
by Valerie Williams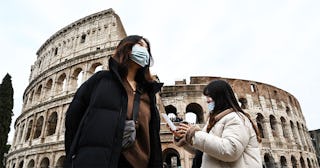 ALBERTO PIZZOLI/Getty
Italy's PM announces that the whole country is being put on lockdown due to worsening coronavirus outbreak
In an attempt to contain the country's coronavirus outbreak, Italy is now on lockdown. Prime Minister Giuseppe Conte says citizens will only be permitted to travel for work or family emergencies.
As the coronavirus continues to spread in several countries, Italy has been hit worse than most. According to the BBC, their death toll climbed from 97 people to 463, just today. Conte announced the emergency measure during a televised address on Monday. "Our habits must be changed now: we must all give up something for the good of Italy," he said.
The lockdown includes a cancellation of all sporting events in the country, even football matches. Also banned are any public gatherings, including weddings, funerals, gyms, clubs, etc. It's being noted that this is the first time since WWII that Italy is limiting the movements of citizens.
Of course, the situation in Italy serves as a dark reminder that other countries might not be far behind such drastic measures. Without early testing, the virus has been allowed to potentially spread.
As the outbreak continues worldwide, the Trump administration has taken steps to downplay the situation in America with the president constantly tweeting about his lack of concern for the potential pandemic.
A total of 9,172 people have been infected in Italy, the most widespread outbreak in all of Europe.