One Italian Town Had Wine Pouring From Its Faucets Instead Of Water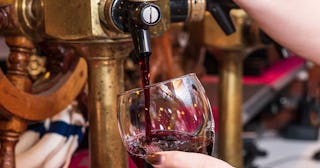 artenex/Getty Images
Unfortunately, it only lasted a couple of hours
Italy isn't a country at the top of many people's vacation lists right now, but what if we told you there was actual red wine pouring from faucets instead of water? Would that change your mind?
It's not the work of Jesus Christ himself but a "technical malfunction" at the Setticani winery near the Castelvetro area of Modena in Italy's northern Emilia-Romagna region that had residents filling up their pitchers with a nice Lambrusco instead of water. The malfunction was caused by a faulty valve in the washing circuit within the bottling line which seeped through the town's waterline.
Unfortunately, as with all good things, the wine on tap was short-lived. The glitch lasted about three hours and impacted about 20 homes, said Giorgia Mezzacqui, deputy mayor of Castelvetro. But the malfunction did mean those lucky residents got about 1,000 liters of ready-to-be-bottled wine straight from source-to-faucet. It's like farm-to-table — but better.
The incident may not have lasted long, but it provided a brief respite for residents thinking non-stop about the coronavirus, which has hit northern Italy the hardest. "At a time where we have very little to smile about, I'm glad we brought some levity to others," Mezzacqui told CNN. "Hopefully, some day, they'll remember us and will want to come visit us."
Of course, it wouldn't be great if you were, say, doing a load of washing at the time, but coming out your kitchen faucet straight into a bottle, now that's the stuff dreams are made of. One could even argue taking a shower when it happened wouldn't be too shabby either. Sure, you wouldn't be able to collect it (well, except for in your mouth), but it would make for the world's most relaxing shower ever.
The local water board sent out technicians as quickly as possible (good for the winery, bad for residents), but not before families had "bottled as much of the precious liquid as they could to enjoy later at a lunch or dinner along with other typical Modenese specialities," according to the Gazetta di Modena.
The coronavirus outbreak has paralyzed and disrupted economic and social life in Italy, particularly in Castelvetro, a popular destination for food and wine enthusiasts coming to visit from across the globe. But since the COVID-19 outbreak, 80 percent of tourism destinations in the region have had cancellations, Mezzacqui said. Today, Nicola Zingaretti, the leader of the governing coalition's Democratic Party announced that he had contracted the virus. "Well, it's arrived; I also have the coronavirus," The New York Times reported.
We could all use moments of levity like this right about now. If they could come in wine form, even better.