10 Items That Make Traveling With Kids Suck Less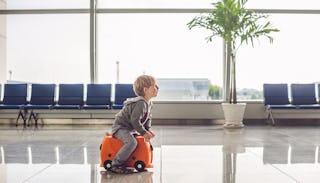 Elizaveta Galitckaia / Shutterstock
Traveling can be a headache. Traveling with kids can be like a morning-after-closing-down-the-bar pulsing hangover. By train, by plane, by boat, or by car, most parents are just hoping to come out on the other side with only minor injuries and most of their mental faculties still intact.
Having flown with kids myself, I am familiar with this hell. My kids are even what you would call "easy travelers," and it is still nothing short of an ordeal. While nothing that promises to make family vacations painless should be trusted, there are some things that can make it easier.
A rolling suitcase that your kids can ride on. They can scoot themselves, or you can pull them by a secure strap on the front. I am in awe of the simple genius that went into creating this. It's carry-on size, so don't worry about having to check it. Pro tip: Arrive early and find an empty gate after you go through security, so your kids can scoot their hearts out on these things before takeoff. By burning off all that energy, you'll have far more docile creatures to deal with on your flight.
If you know your child is the kind who will use the previous suitcase to bump into walls over and over, maybe opt for a more standard option. Your kid can pull this backpack along behind them or wear it on their back. These are best as a carry-on full of things to keep them occupied during the trip since they're a little on the small side.
I got these for a flight I took with my then 20-month-old son from Baltimore, Maryland, to Madrid, Spain. I still keep one in the car and one in the diaper bag when we are out. They're mess-free, easy to refill, and can be used over and over. You fill the pen with water, and your child uses it to draw on and color the pages of these books, revealing colors and patterns as they wet the pictures. Once they dry, they go back to white and can be used again.
We've all looked in our rear-view mirror to see our kid asleep in the car seat, head hanging in a position that makes our own neck hurt at the mere sight of it. Slip this pillow around their neck when they're still awake, and they'll be more comfortable when they pass out en route.
Traveling with a little one who is freshly out of diapers? Don't risk traumatizing them into a regression after they fall into a public toilet. This seat folds flat and can be kept in your purse or diaper bag in a small baggie. No more worries about tiny butts dipping into that blue gunk inside the airplane toilet.
If there was ever a time in your life to give your kids a screen, sitting on an airplane is it. These are more comfortable and easier to keep on than regular headphones, so your kids won't disturb you or your fellow passengers with those episodes of Bubble Guppies you downloaded.
Another genius invention that I wish I thought of myself: It's a drinking cup, and it holds snacks. Pack a bunch of pre-portioned goodies in their carry-ons so your kids aren't whining to you that they're hungry every five minutes. They can dump the food in the main part of the cup, and their beverage is stored below. Get yourself one and dump a mini bottle in the bottom if things get rough.
Disposable everything when you're traveling. These bibs are fantastic. Your kid eats with one on, grosses it up, then you toss it with the rest of your trash.
Small toys and games are so handy when traveling. These cards are an easy and fun way to pass the time, and the tin they come in is compact and durable.
I love this toy for babies and toddlers because it's not only fun during travel, they will also keep on playing with this after you reach your destination. The pocket pouch is perfect for taking this along everywhere you go, so you always have an engaging toy when you're out.
No matter where you're headed or how long it takes your family to get there, these can soften the ride a bit for all involved. Good luck and Godspeed.
This post contains affiliate links, which means we receive a small portion of the sale, if you make a purchase using this link.
This article was originally published on