PSA: If You Are Unhappy With A Beauty Treatment Or Spa Service, Speak Up
by Christine Burke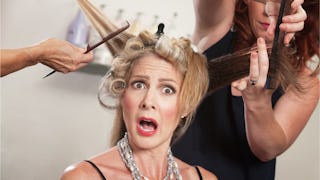 CREATISTA / Shutterstock
My best friend and I have a running joke that my cable company will no longer take my phone calls because of the number of times I have called to complain about our bill or service. And she's not far off from the truth: I spoke to a customer service representative just about every day for a month when we moved into our current home because the company didn't seem to grasp that I was paying for cable and internet and didn't have, well, cable or internet in our new home.
I had no problem asking for a manager or demanding that the problem get fixed to my liking as soon as possible. I had no problem threatening to take my business elsewhere or telling them I wouldn't pay the bill until our service was delivered exactly as promised.
Over the years, I've argued with insurance companies, credit card representatives, and I think airlines have put me on the "She's a bitch, just give her an upgrade" list for the number of times I've complained in airports.
My point? I don't shy away from opening my mouth when I feel as though my family's budget has taken an unfair hit or when a service isn't being fully provided.
But put me in a hairdresser's chair as I get a haircut I loathe? Then I'm a changed woman.
For some reason, when it comes to complaining about beauty services, I become paralyzed at the idea of complaining to the beautician or aesthetician who has rendered my treatments.
And I know I'm not alone.
Recently, a friend posted a picture in a group of a Brazilian blowout gone so wrong it was painful. Her usually lustrous, full hair was rendered limp and lifeless and bogged down in way too much product, and given the very high price she paid for all this, she was pretty damn worked up.
As we all commented in sympathy and tried to make her feel better, we all commiserated about our own haircuts from hell. Many of us had stories of hairdressers lopping off more hair than we expected or hair color that made us look like circus clowns. And most of us admitted to bottling up our feelings and leaving the salon before the tears started to flow.
WTF, ladies?
Why is it we can yell vociferously at our cable companies, but we can't demand that our hair not like an absolute shitshow before we leave the salon?
It's time that we get over this little fear because we work just as hard for the money we put toward pedicures and spa services as we do for the money we spend on cable and health care.
It's okay to be upset with a haircut.
It's not selfish if you think your manicure looks like a 4-year-old painted your nails.
And it's okay to be unhappy if you did not receive the full spa treatment as expected.
Yes, I realize that having the disposable income to spend in a spa is a luxury. Believe me, I don't get massages and facials on the regular by any stretch. But when my husband surprises me with a massage gift certificate for Mother's Day, you better believe that I'm going to walk into that spa room expecting that my massage will feel like heaven. I get very little time to myself and it can feel like the scheduling Olympics to find the time in my chaotic life to squeeze in a little me time. If my massage ends early, or leaves me feeling stressed out because a masseuse talked all the way through it, it's my right to say something.
And that's because beauty salons are providing a service, just like any other business, ladies. It's our word of mouth that keeps them afloat. They rely on us to leave the salon and rave about our new 'dos and fancy hair products. Do you think they want us bitching to our friends and ruining their reputation? Nah.
Recently, I went to my local nail shop for a manicure. As the technician was doing my nails, her technique was different than I was used to, but I kept my mouth shut during the process because, frankly, if I knew how to apply gel manicure polish properly, I wouldn't be sitting in her chair. But as she worked, I realized my nails were going to be in bad shape by the time she was done. She'd filed them down to a shape I didn't prefer, and the polish seemed chunky and poorly applied.
I left the salon upset and did what we all do when we receive poor service in a salon: I called one of my best friends. And she told me to get my big girl panties on and go back in there. Even though the thought of opening my mouth gave me hives, this manicure felt like the last straw for me. I've had too many bad haircuts, salon services, and spa treatments over the years, and I finally decided to be forthright about it.
I went back, spoke politely (there's no need to be rude or hostile) with the manager and the technician, and they could not have been nicer. They explained that the tech was new, that she was still learning, and that they would fix my manicure with no questions asked.
And the manager thanked me for opening my mouth. She was relieved that I didn't post a disparaging picture on social media and that I left as a satisfied customer.
So, lesson learned for me, and hopefully you too. Open your mouths, ladies. Life is too short for bad hair days and facials that make us feel anything less than refreshed. Be kind, of course, and have realistic expectations, but be forthright and honest if you're unhappy. You won't regret it, and more than likely, you'll be met with understanding and a desire to remedy the problem.