Ivanka & Jared Won't Let Secret Service Use Their Toilets & Taxpayers Pick Up The Tab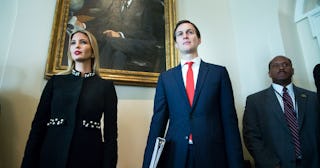 Michael Reynolds-Pool/Getty
Ivanka Trump and Jared Kushner's Secret Service detail aren't allowed to use their restroom
As we count down the days until the Trump administration is over, one detail about Ivanka Trump and Jared Kushner's, uh, bathroom situation has come to light and it is both weird and infuriating. According to several sources speaking on the condition of anonymity, the Trump/Kushner couple apparently does not let their Secret Service detail use the restrooms inside their home, so for years, their Secret Service members have been relieving themselves in Porta Potties, neighborhood businesses, and at taxpayer expense, a bathroom they rented in a neighboring home!
Currently, taxpayers are spending $3,000 a month for the bathroom that the Kushners' Secret Service members are renting out. Before that they erected Porta Potties outside the home, but the Kushners' neighbors took offense to that so the Porta Potties came down. After the Porta Potties they used restrooms at Mike Pence's residence and at the old Obama home whenever, I guess, a fellow Secret Service member would let them in.
"It's the first time I ever heard of a Secret Service detail having to go to these extremes to find a bathroom," one law enforcement official familiar with the situation told The Washington Post.
How terrible do you have to be to not let the people protecting your lives use a restroom on your property? The Trump/Kushner couple claim they never barred their security detail from entering their home to use the restroom, but if they didn't — then who did? Because the facts are that these Secret Service members have nowhere to go to the bathroom and someone told them not to go inside Jared and Ivanka's house.
According to The Washington Post, two law enforcement officials said the bathrooms inside the Trump/Kushner home were declared off-limits from day one. One officer said Ivanka and Jared made the rule, the other officer doesn't know who doled out the edict.
Currently, the Secret Service has spent more than $100,000 to date to rent a basement studio in a neighboring house, just so they can use the restroom in the studio apartment. This is so sad. Apparently, past political families just let their Secret Service use a pool house or a back house or built-out garage space, not just to use the facilities but to hang out and take breaks. It's just wild that Ivanka and Jared couldn't figure out how to build an add-on in the four years they've lived in D.C. or I dunno, picked a house with a suitable facility for the people protecting them with their actual lives?
A neighbor who lived across the street from Jared and Ivanka says she felt bad watching the security detail go to such great lengths to find a bathroom. "These poor people," the neighbor remembers thinking. "What, are they going to have to get in their cars to go to the bathroom?"
Oh and for the record, Ivanka and Jared live in a 5,000 square foot home with six bedrooms and six and a half baths. As Gen Z says: eat the rich.