Can Women Really 'Have It All'? I Read Ivanka's Book To Find Out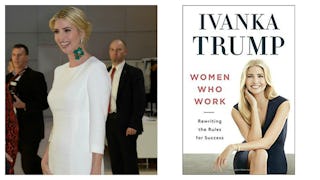 Clemens Bilan / Getty Images / Portfolio
Lately, I've been wondering where things went wrong for me. Sure, I have two adorable children, a loving husband, and a lovely home, and I'm well-educated.
But why am I not running my own company? Why am I not rich and successful? Why don't I wear designer clothes? Why haven't I taken advantage of more of the endless opportunities available to modern American career women, just like Ivanka Trump has?
As luck would have it, I just happened to pick up a copy of First Daughter Ivanka Trump's newest book, Women Who Work: Rewriting the Rules for Success. After reading it, I now know what I've been doing wrong all these years as a professional, mother, and wife.
At first, I wasn't sure this kind of self-help guide would be relevant to my life. After all, Ivanka's a poised, stiletto-wearing, jet-setting, former model with her own shoe and handbag company, with a dad who's the 45th president of the United States. And I'm a mostly stay-at-home mom in the suburbs whose idea of looking polished for my career means wearing my newer pair of yoga pants. She goes to galas; I go to garage sales. She has power lunches with world leaders; I eat last night's leftovers over my sink with a toddler screaming in the background. You get the idea.
But Ivanka reassures me right away that she is writing this book for today's American women. (Well, except the majority of women who hold the most common jobs for women in America, including receptionists, teachers, retail workers, house cleaners, childcare workers, home health aides, and waitresses. Or the women who comprise nearly two-thirds of those making minimum wage. Not those women. As we will see, Ivanka teaches us that those women aren't thinking "proactively" or "positively" enough to get out of their situations and become leaders.)
She states that the book's audience might include the following types of women: a "founder of your own company or a stay-at-home mom, an assistant in a larger corporation or a part-time freelancer working from home […]" Freelancer working from home?! Yes! That's me!
What did I learn from Ivanka in this book about what I should be doing to become a balanced, more successful, and fulfilled woman who works? How did Ivanka help me, as she promises, in "identifying opportunities, shifting careers smoothly, negotiating, leading teams, starting companies, managing work and family, and helping change the system"?
First, I learned that I should be talking to more celebrities. In Ivanka's life, famous people have always played an outsized role in mentoring and advising her. Her advice for all women is to network with important people in their chosen professions, as she did in fashion. She writes that she met with "people in the [fashion] industry who had created or worked at companies I respected — Tory Burch, Ralph Lauren, Michael Kors, and Calvin Klein, of the established players." She also reveals that she got a job offer while in college from Anna Wintour of Vogue. (If you're rolling your eyes as you read that, like I did, please be aware that Ivanka also wisely teaches us that only positive thinking — not envy — leads to success.)
Next, after contacting the celebrities in my chosen field and asking them to mentor me, I should have developed my own "brand" as a woman by now. Ivanka writes that developing your own personal brand, including a personal mission statement, is very important to achieving success.
I also realize that I haven't "chosen" success in the way that Ivanka thinks is critical to achieving my full potential. The key to success, according to Ivanka, is "passion." She calls it "a great equalizer, more important than education or experience in achieving your version of success." (Inheriting great amounts of wealth from your relatives has nothing to do with it. If only the disadvantaged could just get more passionate!)
She credits her dad, who inherited a fortune of his own, in teaching her the lesson that "if you love what you do, and work really, really hard, you will succeed." In other words, any woman can get exactly what she wants if she just has a positive attitude, works hard, and is passionate. It's not going to fancy schools like Wharton, as Ivanka did, or getting a prestigious first job through family connections that's important, and accordingly, Ivanka doesn't spend much time in this book reflecting on her own privilege.
For Ivanka, developing the necessary amount of passion is in itself hard work. In every area of her life, Ivanka is constantly strategizing, making lists, charting personal and career goals. She takes a great deal of alone time out of her week to think reflectively about her passions and goals.
Which brings me to my next lesson from Ivanka about how to "have it all": I really need to get a full-time staff of my own for that reflection time so that I can be more productive in my passion-building. It's clear from Ivanka's book that any woman with lots of valuable connections can be wildly successful and powerful, but they must have nannies and so much more. (Her nannies are thanked in the acknowledgements of the book "for helping me raise my own children.")
One of the other main themes from Women Who Work is the importance of self-care. Like many moms of small children, it's true that I do not prioritize my own sleep, fitness, and hobbies as much as I should. Relatably, Ivanka writes that she sometimes struggles with this too. For instance, self-care was particularly a challenge for her during her father's presidential campaign. Not so relatably, she writes, "During extremely high-capacity times, like during the campaign, I went into survival mode. I worked and I was with my family; I didn't do much else. Honestly, I wasn't treating myself to a massage or making much time for self-care." During that time, she confesses that she did not even have time for meditation!
If you're looking for a guide to "inspire and empower women [of privilege] to create the lives they want to live" (with a lot of paid help), this book might be for you.
If you're looking for answers in this book about how this supposedly socially liberal women's rights advocate reconciles her role in the White House of a president who brags about sexual assault and has called her a "piece of ass," or about policy solutions that could help the vast majority of working women (Ivanka has advocated for a childcare policy that would give 70% of its benefits to wealthy families and just $20 to families making less than $40,000), you'd be looking in the wrong place.
This article was originally published on