Ivanka Trump Is Shutting Down Her Fashion Brand, Literally No One Cares
by Christina Marfice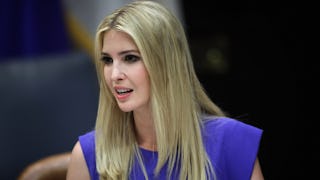 Image via Win McNamee/Getty Images
Ivanka Trump is finally pulling the plug on her clothing line, saying she wants to focus on her work in Washington
It's probably been a long time coming, but sources close to the business say Ivanka Trump is pulling the plug on her controversial clothing line.
The Wall Street Journal reports Trump is frustrated that restrictions she put on the brand to avoid conflicts of interest with her new work in politics have been slowing growth. Major retailers, including Nordstrom and Hudson's Bay, have pulled her products from their shelves, citing poor sales that may be the result of nearly constant calls to boycott Trump products. Honestly, this was probably bound to happen.
Reports say the company's president informed the staff they would all be laid off (Trump administration job creation is going so well, amirite?), and Trump was expected to personally speak at the company this afternoon. She told the Wall Street Journal she doesn't know if she'll ever return to the retail industry now that she's established herself in the political arena.
"After 17 months in Washington, I do not know when or if I will ever return to the business, but I do know that my focus for the foreseeable future will be the work I am doing here in Washington," she said. "So making this decision now is the only fair outcome for my team and partners."
During her time as a senior advisor in her father's White House, Trump's brand has come under a lot of fire. Donald Trump was called out hard for tweeting that Nordstrom was treating her "so unfairly" after it cut ties with the brand. And Senior White House adviser Kellyanne Conway was also criticized for telling people to "go buy Ivanka's stuff" during a televised interview in the White House. The family has clearly attempted to bolster the brand through its political dealings, and it hasn't been a particularly popular move.
While Ivanka Trump's brand is privately held and doesn't disclose sales, online sales of items from her line are down nearly 45 percent at Amazon, Macy's, Bloomingdales and Zappos compared to last year. Looks like the people have voted with their dollars. Bring on the next election.