Ivanka Trump's Company Tweets Father's Day Gift Ideas, Immediately Regrets It
by Meredith Bland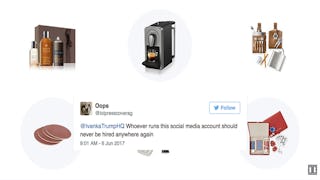 Ivanka Trump HQ has some ideas for your Father's Day
We're just a couple of weeks from Father's Day, and many of us are stumped on what to do to celebrate the dads in our lives. Luckily, Ivanka Trump's brand, Ivanka Trump HQ, has tweeted out a list of ideas that will make you say "Huh," and "Yes, that's something people could buy," and "Perhaps tone deafness is hereditary."
It seems incredible that Ivanka Trump would put out a list of Father's Day gifts right now, with her dad under investigation and her husband who works for her dad also under investigation, but she did, and for that we are grateful. Let's take a peek, shall we?
To start off, we should note that Twitter gave this post a proper Twitter reception, with reactions like the following:
Twitter is a tough room, Ivanka — you need to learn to read it.
But maybe there are some really good ideas for gifts! Let's check out a few of our favorites:
First on the list is a whiskey glass, which is a timely and appropriate suggestion. It may also be a cry for help, which we will ignore. If 2017 hasn't turned you into a drinker, however, then how about a set of football coasters made out of the "same leather as NFL pigskin?" We'll let Twitter handle this one:
Thanks, Twitter. Next Ivanka offers a set of black peppercorn body wash, cologne, and deodorant. She promises that "Dad won't think twice about self-care after using [them]." Yes, that'll do it. Encourage dad to start engaging in self-care by wearing deodorant, and then get him to stop tweeting. Or whatever.
https://twitter.com/jetpack/status/872090504170811393
What about a turntable? A what? A turntable so that "music buffs can play DJ." Okay. Here, Dad. Here's a turntable. Yeah, I think it's the same as a record player. It's got three speeds in case you want to scratch records and stuff. No, I don't know why you'd want to ruin your records. Ivanka says you can also use it as "a great design piece." That means it sits on the table. You know what, never mind.
Then there's this 5-in-1 grilling tool, which is perfect for the dad who likes to grill, or who may soon be getting grilled, and no we could not avoid making that joke because oh my God it's a grilling tool.
The tool is only $23, but if you want to splurge this Father's Day, how about this $325 Bug Out Bag we mean travel bag? It's got lots of pockets and dividers for your passport, hair dye, and files that are "just boring work stuff."
Ivanka also includes this suspicious Nespresso machine, which Twitter raised some valid concerns about:
It could happen.
And finally, there is, of course, a golfer's tool belt. Ivanka says, "Tee time just got that much better…" which is frankly, something our country really doesn't need right now. Sometimes Dad needs to put in a few hours at the factory, know what I'm saying, Ivanka? The tool belt is basically a carrying case for a stainless steel flask with a couple of tees and markers that fit snugly into their own individual tiny vegan leather flaps, making the wearer of this belt both the first and last guy you want to golf with. There's also a "monogrammed divot tool" which sounds like either a terrible insult or a thing you use after teeing off from the nose of an underling.
So there are some ideas for you from the daughter part of the most unwholesome father-daughter pair in the country. Enjoy. And keep the receipts.